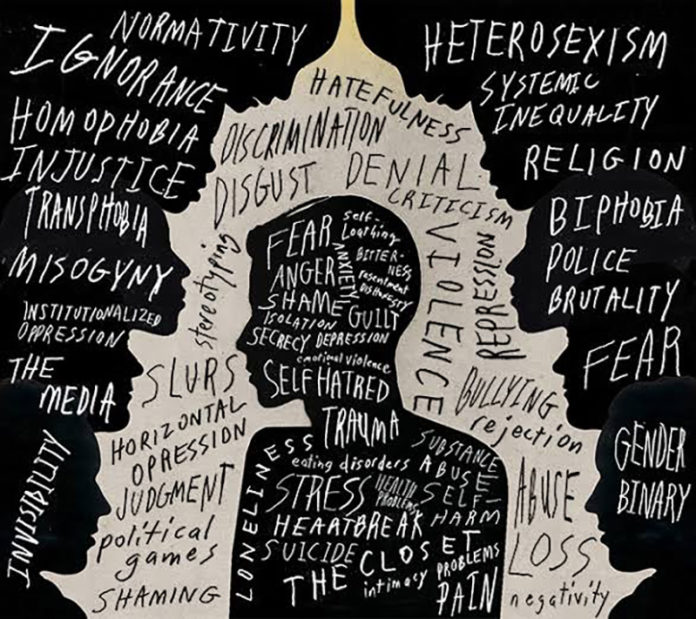 4
min read
I grew up having internalized the homophobia of my deeply religious family. I became quickly aware the love of my brothers and parents was conditional. Their acceptance was contingent on adopting their narrow beliefs and rejecting people that did not fit a conventional mould. It was tremendously difficult coming to realise, I was one of these people my family ostracised. I was only 20 when I came out to my family. I thought losing them would be the end of the world. Leaving this environment to live as my authentic self was not a straightforward journey. Outside of the strict Muslim world I was socialised in, I went searching for validation in other people. My teenage years were spent living a life that did not belong to me. Feeling shame and hiding who I am had become habitual. Even in this new world that I'd fought to be a part of, I found myself disconnecting through substance abuse. By the age 22 I had attempted suicide 5 times.
I was rejected by my family, the people who were meant to protect and love me. Unfortunately, I often felt that same rejection mirrored back from the queer community. Our vibrant, diverse community has an incredible capacity to nurture and care for each other. I reinterpreted the notion of family and developed a strong sense of self as a beneficiary of this compassion. Again though, finding my place and truly feeling as if I belong here, was not a straightforward journey.
Internalized homophobia covertly operates in our community, when we judge others for being 'too fem' or 'too flamboyant' or 'too much'. This makes it even harder to face the homophobia that persists outside of our queer bubble. Queer people are still rejected by loved ones, friends, churches and looked down on by strangers in the street. It makes it harder still, to face our own learned habits of shame. It causes us to wish away parts of ourselves. We need to be conscious of human fallibility we can all slip into… projecting our own resentment and shame onto others. The same sense of division I felt from my family, I have at pivotal moments, felt as a part of the queer community.
I've witnessed segments of the LGBTI community ignorant and unwilling to recognise the fluidity gender identities, sexuality and self-expression. Telling a man wearing make-up "you're the reason why we have such a bad reputation" doesn't purify you as one of the 'good' gays. A person's worth within the queer community isn't determined by how closely they mirror mainstream culture. Often, the queer community is portrayed as a homogenous, harmonious family. That characterisation is real, it can be a supportive haven. Likewise, our community can also be a site of exclusion and judgement. Many of us faced unsupportive environments as we embraced and explored our non-heterosexual identities. I want to draw attention to the way the tools of separation and shame we have experienced in those environments, can be repackaged by our community.
What may seem like a harmless comment to you, could be another piece of evidence for someone struggling that they do not belong. I want to see our community being kinder to each other. Recognising the uglier parts of our own coping mechanisms, empowers us to change them. Make an effort to talk to people outside of your circle. Respectfully challenge jokes or comments that re-enforce divisions. Every time you make the space a little easier for someone different from you to occupy, you re-enforce your own sense of belonging. Love will lead the way.
Often, injustices feel so far out of our control. I have been inspired to ask myself: "what can I do to make shared space a little more comfortable for those around me to be different?" I will leave you with a song I've written about growing up and embracing my gay identity. I hope it inspires you to ask yourself that same question.
Walk Alone –
Soldiering nights spent all alone
Tough times they last
Figuring this out on my own
I had to reflect on where I went wrong
Put my ego aside
As the pain has two sides
Blistering memories all through the night
No comfort of a mother's love keeps me up at times
Dwelling thoughts of adolescent fears
Tough times they pass
And bring about my tears
They look, judge and ridicule me
They can't define us
They can't fathom to be
Being scrutinized keeps me up at times
Subconsciously I seek to define and comprehend this society
How they made us victims that no one wants to see
Isolated inside my head
Vacant inside to feel whole again
Bigotry and ignorance
Racism experience
Hoping somewhere down the line
It's just a phase and it will pass in time
Internalized homophobia
Almost everywhere I go
In my home and in our schools
In your head consuming you
Discrimination of one's kind
Over and over in their minds
How does one judge another being
When a being is just being and I'm just being
Injustice in my community
Subjects of bullying
Trans lives murdered gone unheard of
And addiction of a beauty queen
Ostracized for something beyond my control
And this is the reason why we now walk alone
Addictive personality keep me up at night
Nightmares about abusive times
Succumb for love with a chem
Will become my only coping mech
A victim of circumstance
No one seems to understand
They point their finger and circulate abuse
The cycle keeps going
Till it happens to you
Seeking guidance from above
Disconnected as I trust no one
Hoping that society will ever change
Not for the sake of me
But for the sake of being sane
Ostracized for something beyond my control
And this is the reason why we now walk alone
Confessions from a broken heart
On how a mother could leave her son
Turned your back
And victimised me
No one really wants to see
The past is gone but the pain still lasts
Its buried deep inside of me
Domestic violence surviving
Tossing and turning about traumatic times
I can't sleep with this void inside
Manipulative relationships
Found themselves surrounding me
Dealt with abuse on so many levels
The screwed with me mentally
Weary at times by society's judgement and how they all belittle me
How do I go about my life
When they make it hard for me to survive?
The words are sharp and cut real deep
They'll never know how much they truly affected me
Until they learn to be in one's shoes
I don't want to hear another word from you
To be understood is to console
I guess that's why you're so closed off
Don't be close-minded and walk around blinded
But they are misguided following manipulating liars
They will never see me as their equal
Defying beliefs for a close-minded individual
They ostracized me for something beyond my control
And this is the reason why I now walk alone
So if they ever ask
Just let it be known
They be the reason why we now walk alone
The news team for
Gay Nation
love tips from our readers. Got tips or a news story that you would like published?
Go here to tell us something.
Visit the Gay Nation store Now