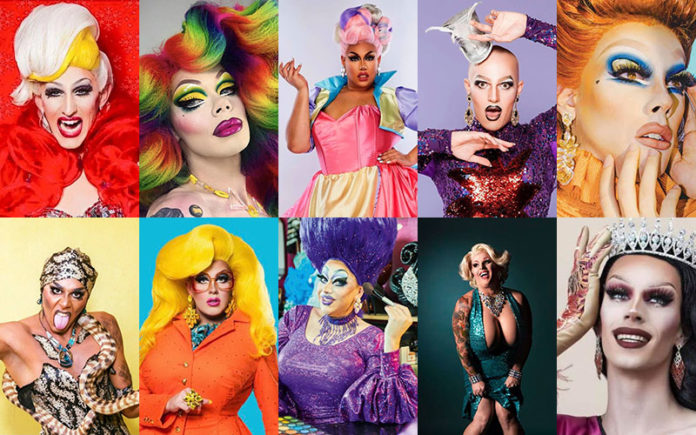 2
min read
As rumours and unofficial sources continue to be leaking information about RuPaul's Drag Race Down Under, Drag Race fan site "Not Today Satan" have released their list of ten drag queens that they believe will be the cast of season one.
Filming began in late January for the first season of the series in New Zealand's biggest city Auckland and it was always expected a number of Kiwi queens would join the Australian stars of the show.
In the list released by "Not Today Satan", three New Zealand queens are in the cast with Anita Wigl'it, Elektra Shock and Kita Mean making the cast.
The other seven are all from Victoria or New South Wales or Western Australia, Art Simone, Coco Jumbo, Etcetera Etcetera, Jojo Zaho, Karen from Finance, Maxi Shield and Scarlet Adams.
Some may say this is just a guess from Not Today Satan, but according to eagle-eyed observers on social media platform Reddit, all those listed have been quiet on social media for the entirety of filming and have only just started coming online recently as queens would have been eliminated from the show.
Also, Not Today Satan has form in picking drag race casts having guessed every queen for season 13 on August 20, almost four months before the official cast announcement.
All of this has happened as Michelle Visage has tweeted that she has left New Zealand and flown for 29 hours, suggesting filming in Auckland has finished and Visage has headed back to the Northern Hemisphere.
Just landed after 29 hours of travel

— michelle visage (@michellevisage) February 16, 2021
Although Stan in Australia has suggested the show would appear later in 2021, some are now saying the interest has been so strong that the show will be launched during Sydney Mardi Gras in early March with an April on-air date. Time will tell.
RuPaul's Drag Race Down Under Cast below.