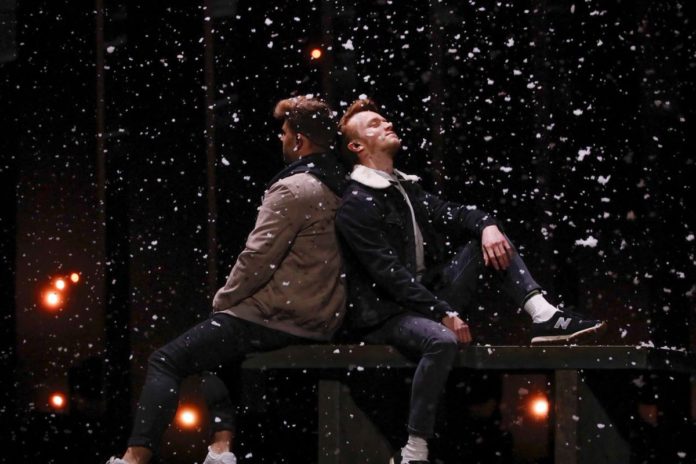 The European Broadcasting Union (EBU) has terminated its contract with the Chinese broadcaster Mango TV after it failed to broadcast Ireland's Eurovision entry on Wednesday morning.
The Chinese broadcaster, part of the second biggest channel in the country, edited out the Irish Eurovision entry over its depiction of a gay relationship.
Ireland's entry Ryan O'Shaughnessy performed 'Together', qualifying Ireland for the final for the first time in five years.
Ireland's Eurovision entry has made headlines as the first in the contest's 63-year history to feature a same-sex couple.
China has strict broadcast rules banning any depiction of gay relationships.
Ireland's Independent.ie brought the ban to international attention and after a review the EBU decided to terminate the contract with the Chinese broadcaster.
In a statement tonight, the EBU said: "On the 9th of May, Chinese broadcaster Mango TV broadcast the first Semi-Final of the 2018 Eurovision Song Contest live but two performances were censored.
"This is not in line with the EBU's values of universality and inclusivity and our proud tradition of celebrating diversity through music.
"It is with regret that we will therefore immediately be terminating our partnership with the broadcaster and they will not be permitted to broadcast the second Semi-Final or the Grand Final."
Ryan O'Shaughnessy has welcomed the EBU decision.
"I would like to welcome the decision by the EBU to do that because from the very start we have just said love is love," said O'Shaughnessy to the BBC.
"It doesn't matter whether it's between two guys and two girls or a guy and a girl.
"I think it's a really important decision by the EBU, they haven't taken it lightly, and I think it's a move in the right direction I'm happy about it."
A representative from the BBC has also confirmed that Albania's performance was also cut and Switzerland's performance was partially censored too as rainbow flags from the crowd were shown.
---
In the meantime, Eurovision semi-final 2 has been held this morning with Australia's Jess Mauboy progressing through to Sunday's final after a rousing performance on stage in Portugal.
The crowd erupted even before Jess began her song and it was clear she is one of the crowd favourites heading into the final.
Speaking after the performance Jess said she felt very nervous before getting on stage.
"It felt nerve-wracking, but at the same time with that kind of crowd, it's really undeniable; you can't. There is so much love and what my song represents is that," Mauboy said after her performance.
"The people in the crowd, and the people watching at home feeling this electricity, this synergy…I obviously felt that back.
"The difference is I am competing this time amongst greatness.
"Singing on that stage tonight was beyond my expectations of it. We got love."