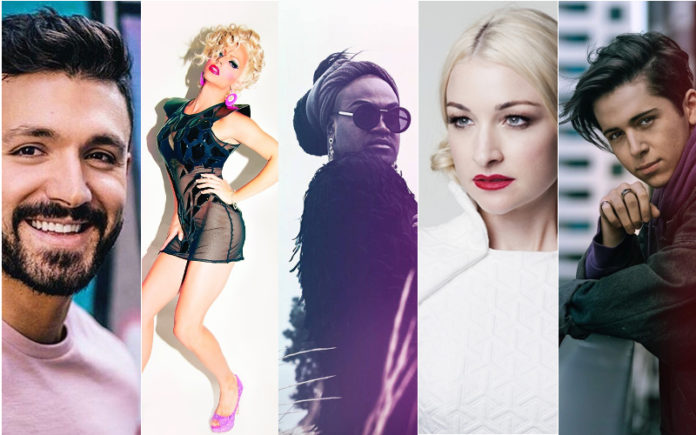 3
min read
Australia is set to choose its 2019 act to perform at Eurovision and for the first time it won't be just selected by the industry but the public gets to watch, judge and vote.
The voting takes place this weekend on the Gold Coast and a strong list of songs and performers have been put together to come up with a hopeful winner when Eurovision plays out in Tel Aviv in May.
Gay Nation has done all the hard work for you and listened to all of the acts and given them a critique of how good they are and whether they will go well at Eurovision.
Understand that all we have to go on is a vocal performance and lyrics where Eurovision is so much more than just singing. The performances on stage on Saturday night will say so much more. Coverage starts on SBS at 8.30pm AEDT Saturday.
Enjoy
10. Alfie Arcuri – To Myself
A head bopping aching tune moulded perfectly in the Eurovision tradition. The winner of the Voice Australia fifth season has amazing support, particularly through the LGBTI community and as this song leads to a
crescendo it may get enough votes to win.
Rating: 7 Eurovision likely: medium chance
9. Aydan – Dust
A sombre tune that certainly shows off his vocal range but does it really fit the brief. A former Voice competitor, at 18, Aydan certainly has the looks, the talent and if We are looking for something out there and different then this may be it.
Rating: 7 Eurovision likely: unlikely
8. Courtney Act – Fight For Love
We've been calling for this for so long, give Courtney a run we said. Surely Eurovision will love her we said. Finally, here she is and….. we get a bland attempt at a pop song but not a Eurovision classic. She will probably bring it all on Saturday night and there's no denying Shane Jenek has the vocals. We just hope the LGBT support will be enough.
Rating: 4 Eurovision likely: Unlikely
7. Electric Fields – 2000 and Whatever
Brilliant….this grabbed me from the first moment. If Israel's finest Netta could smash the competition last year with her unusual tale then this can't lose. Got the contemporary take, the dance beat and the native heart to set it apart. Can't wait to see what they do on stage with it.
Rating: 9 Eurovision likely: Extremely likely
6. Ella Hooper – Dust
Killing Heidi gone country. That's my first take on this vocal and it didn't really change after a couple of listens. Boppy but sounds like so many Eurovision songs that have fallen into the abyss.
Rating: 5  Eurovision Likely: Unlikely
5. Kate Miller-Heidke – Zero Gravity
OMFG I'm so torn. On the one side, this is brilliant and captivating. Starts with pure operatic theme and then hits a dance beat for a while before moulding the two. A genius piece that sits perfectly in amongst those eastern European countries that love this. Will Australia vote for it hmmmmmm I just don't know. I hope so.
Rating: 9  Eurovision Likely: Sitting on the fence
4. Leea Nanos – Set Me Free
Very much in the Eurovision mould but I doubt it will be exciting enough to gain the votes from the Australian public let alone that of the Australian judging panel. The 16-year-old Greek wildcard deserves to be loved all the way.
Rating: 5 Eurovision Likely: Little chance
3. Mark Vincent – This is not the end
The young boy that won the third year of Australia's Got Talent has grown up and his voice has grown with him. A strong powerful voice, perfect for that greek god who takes on Eurovision with the deep operatic tones. Unfortunately, I don't think Australian grandmas will be voting this weekend, so maybe not Mark.
Rating: 6 Eurovision Likely: Not likely
2. Sheppard – On My Way
The hit factory that is Sheppard have turned these lyrics into a catchy bursting tune that grabs you from the first beat. The group harmonies that are synonymous with Sheppard are there as is the quick ability to hear the words and repeat before the song finishes, the perfect recipe for Eurovision. The Queenslanders could take this one out and be Australia's first group to appear at Eurovision in Tel Aviv, although they will have to drop a couple of members due to the number restrictions on stage.
Rating: 8 Eurovision Likely: Very likely
1. Tania Doko – Piece of Me
This is by far the most commercial song in the contest, Doko is a genius with lyrics and song development and this sounds as good as any Tay Tay single it could even be something from…. ahhh Bachelor Girl. It doesn't really have the bursting crescendo of a Eurovision song which may hold it back, but its surely going to feature well in the finals this weekend.
Rating: 8 Eurovision Likely: Medium Chance.
Last Updated on Feb 8, 2019