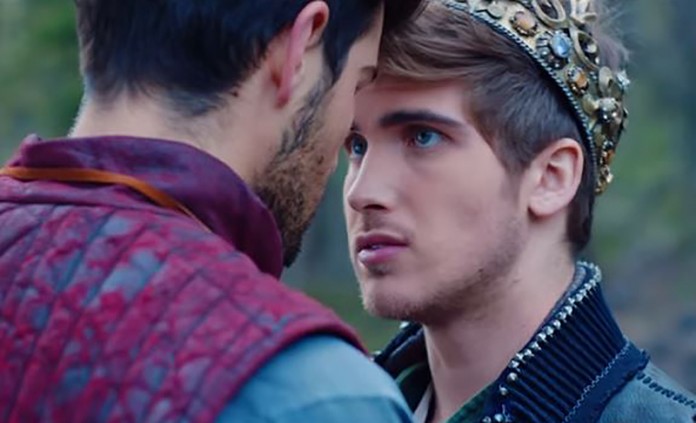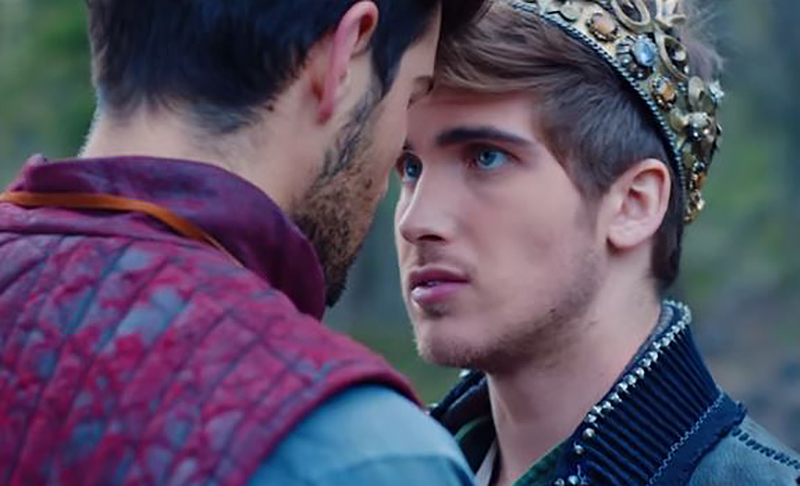 4
min read
One of YouTube's most well known channel hosts Joey Graceffa, has used a music video to announce that he is gay.
The music video clip, which has been in the making for months, features the depiction of a young Graceffa being bullied at school for being different.
The name of the song is "Don't Wait" and the video explores Graceffa's issues with his childhood, alcoholic parent and bullying.
The song says not to wait for the world to be ready, which in the end leads to Graceffa dealing with his demons and freeing his Prince Charming from a forest cage.
In the film clip, Prince Charming is played by Daniel Christopher, someone who has been romantically linked to Graceffa over the last few years.
In the end he is freed from the cage (closet) and holds hands with Graceffa as they walk away, stop and passionately kiss as the clip concludes.
UPDATE
Joey has since released another Youtube video explaining aspects of the music clip and officially telling the world he is gay.
Joey Graceffa, 23, has been a Youtube sensation since he started producing videos in 2009.
Since then he has amassed more than 4.6 million subscribers and has had over 480 million video views.
What makes Graceffa different to many YouTube hosts is that he does daily video blogs, and unlike most that are produced professionally, he records the majority on the go (Selfie Style) showing every aspect of his life.
But what has upset many of his fans over the years is his somewhat secret nature.
On the one hand he would say he shows his whole life in his daily vlogs, but there always seemed to be a hidden side to his life (which he admitted freely) he wasn't willing to share, which many suggested was to do with his sexuality. Today that has been revealed as correct.
In recent months many of the vlogs have shown Graceffa emotional and dealing with some extremely personal issues. It had led to some terrible posts from viewers angered that he wasn't his normal 'Joey' self.
At the end of the music video, which has amassed more than 200,000 views in just 12 hours, a red-eyed, emotionally drained Graceffa explained how this video was all part of his plan to come out 'his way'.
"This video has so much meaning and it's really really special to me so I'm very happy that I was able to share it with you guys the way I envisaged," he explained in a piece to camera following the clip.
"I hope this will help some of you out there who are going through similar struggles that I went through and do some good in the world."
Graceffa went on to say that the video clip was just a small glimpse into his life which will be explored in more detail when his first biography is released this week.
The book entitled "In Real Life: My Journey to a Pixelated World" has been a project he has been teasing his viewers for months and has led to numerous break downs on his vlogs when he has been dealing with issues that he is going to explore in the book.
While the book is officially set to be released on the May 19, Google Books has already made public previews of the book available online.
In a recent video Graceffa told everyone to make sure they read Chapter 14 as it has a big surprise.
According to the previews, Chapter 14 reads "Surprise! I'm Gay", Then the chapter ends abruptly.
---
---
"This is my first time coming out in public and I'm proud to be finally telling you all," he writes in the next chapter.
But why did it take Graceffa so long to come out?
"I wanted people to focus on the things I was creating, not whether I wanted to kiss boys," he explains.
"I needed something of my own that I could keep for myself.
"I was teased about being feminine so much when I was a kid," he continues.
Graceffa said that confessing his homosexuality felt like he was validating the bullies that tormented him.
"Being called gay as an insult had left me emotionally scarred."
Graceffa also reveals how he was scared to come out due to the responsibility of being a role model.
"I didn't want to announce something that I was still figuring out for myself."
He says he didn't feel it was right for closeted kids to look up to him, as he did not feel worthy.
"Part of me was frustrated that just because I acted feminine, everyone automatically assumed I was gay," he writes.
He said he did not want to feed into the stereotype.
He also reveals that moving to Los Angeles spurred him into accepting his sexuality.
"I faced a whole world of dating possibilities."
"I'm proud to be who I am, and I'm tired of hiding and being afraid to share certain experiences."
The release of the biography and his coming out comes hot on the heels of a similar coming out by fellow YouTube star Connor Franta late last year.
He also released a book in April which has since gone to the top of the New York Times Best Sellers List.
Joey Graceffa's book "In Real Life: My Journey to a Pixelated World" will be released worldwide on Tuesday.
Last Updated on May 19, 2015
The news team for
Gay Nation
love tips from our readers. Got tips or a news story that you would like published?
Go here to tell us something.
Visit the Gay Nation store Now