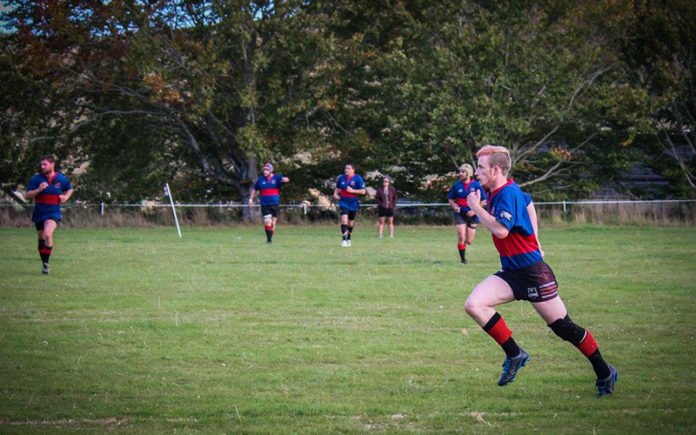 5
min read
Standing in the corner of a sweaty and dirty rugby changing room, surrounded by sixteen burly straight men dressed in ripped rugby shorts and thick shirts advertising various brands of alcohol, I was about to do something I had never done before: Come out publicly.
I moved back to my hometown a few years ago to start my new job. It is a quiet place which still holds fast to the "typical small town New Zealand" stereotype of yesteryear. It's a place where Fred Dagg would not feel out of place and rugby is still entrenched deep in the culture. You can tell the "men from the boys" by whether they play the game or not.
It's almost tradition, and I decided to give rugby a go despite the fact that I knew I wouldn't be very good and it had been years since I last played so the exact mechanics of the game had all but fled my mind. There was also one other problem which set me apart from the other rugged, rural farmers I was to fight over a pigskin with: They were straight and I, clearly, was not.
To say the rugby environment is unwelcoming is a bit of an understatement. While I typically have a thick skin when it comes to others using homophobic slurs; eventually, after a few months of being on the team, the way the men were talking was putting me on edge.
I had to say something. And so, back to the start, I stood up at practice one night and endured one of the most uncomfortable situations of my life. I had to tell a group of men who had just undressed in front of me that I was attracted to the same sex. I told them that the way they used terms like "f*****" and "gay c****" freely and openly to insult or deride someone made me uncomfortable. The way the words were used felt like an attack on me and who I am, and it made me feel unsafe. What I was doing was asking them to change their culture. That is the unfortunate truth of the world we live in. A huge part of New Zealand's culture still views homosexuality as synonymous with the lesser, the weak and something worth mocking. A joke and an insult. A curse word.
After declaring my sexuality openly to my teammates, there was an awkward tension in the air. However, with the support and encouragement of the team manager and coach, the men agreed to be more careful about their language. It was a huge relief and I felt much more comfortable with everyone. Leopards don't change their spots, but the team at least put in the effort after that to change their language – a language they had been brought up on and had become a part of them.
When I was growing up in rural New Zealand, although I was in the closet and had limited understanding of what it meant to be gay or bisexual, it was not a simple walk in the park. Coming from a family of conservative labourers and farmers, I had to deal with the pressures of living up to certain expectations and the status quo of following in their footsteps.
I was led to believe gay men behaved in a certain way and were less capable than their straight, masculine and "tough" counterparts. Despite my protests, I was very much the subject of a lot of taunts, bullying and abuse because others perceived me to be different from them – but I was too stubborn to admit or conform to it at the time.
Coming to terms with who I am in my adolescence was one of the biggest struggles that I've had to overcome in my life. While I knew that my family loved me, I was unsure of how they might react. When I finally came out at the age of 22, things did not go well. There was concern that me being open about my sexuality would embarrass or shame the family. It would open me up to abuse and I would be targeted. If word got out in the small rural town where I had come from, there would be hell to pay. So, when I did move back a few years after coming out, I knew I would have to be strong. I would have to prove myself. I would have to defy the stereotypes and challenge what the rugged men and women of rural New Zealand thought about homosexuality.
I like to stay fit. I like to make friends. I like to have yarns over a beer. And yes, I do like rugby. And so I played the game. I'll admit I wasn't very good, but I still hope that I made at least a little bit of an impact in their minds of what it means to be gay or bisexual.
Because despite the fact homosexuality was decriminalised in 1986 and same-sex marriage legalised in 2013, there is still that ongoing perception in our wider society today that to be gay is perverted, gross and seen as weak or lesser. Like systemic racism, homophobia continues to exist. It needs to be challenged. But it is not only my job to do so. It is everyone's job. In order for us to be truly accepted by society, we need to start being more accepting of ourselves as well. They say that you need to be the change that you want to see in the world.
We are not defined by our sexualities and it does not make us any less capable than anyone else. It's important to realise that. Do things that frighten you. I worry too many of our LGBT+ people exclude themselves from things because they're afraid of being targeted, or that they worry they will be victimised because of who they are. In my view, the only way to overcome that persecution and fear of the unknown is to get involved in as many things as you can and live life as normally as possible. Do what you want to do and don't let anyone tell you that you can't. I did not want my sexuality to define me or put me in a square box. I wanted to be myself regardless of it.
I hope that by being the very thing I want to see more of in this world, that more young LGBT+ youth will have the courage to be themselves and get involved in things that at first might be daunting. That is why I have entered Mr Gay New Zealand.
I want to challenge the perception of what it means to be gay, to inspire others to be themselves and be comfortable with who they are no matter who they love. I hope that by standing up and being true to who I am, that I can encourage others to be their authentic selves, help them realise that being gay or bisexual does not define who they are and they can be confident and happy.
It is possible to break the glass ceiling and defy stereotypes. We are not victims. We are not weak. We are not lesser people. We are not defined by who we love. We are human, and we deserve to be who we truly are.
Last Updated on Jan 28, 2018
The news team for
Gay Nation
love tips from our readers. Got tips or a news story that you would like published?
Go here to tell us something.
Visit the Gay Nation store Now