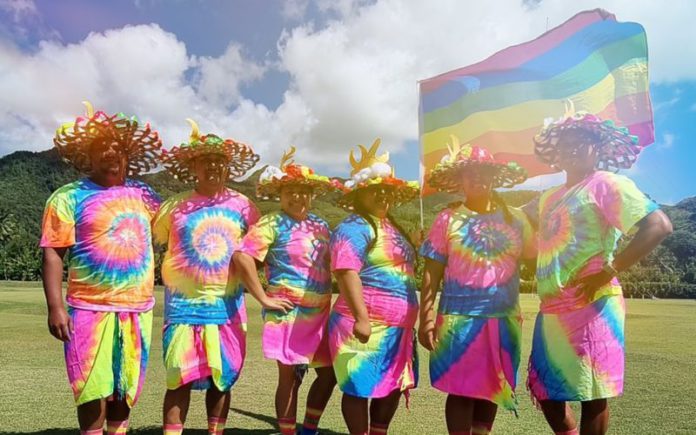 3
min read
In a historic move, the small South Pacific Nation of the Cook Islands has passed a bill to eliminate a law that could imprison men for engaging in sexual activities with other men.
The newly passed Crimes (Sexual Offences) Amendment Bill will repeal any clauses that criminalise consensual sexual acts between men in the Crimes Act, and is set to come into effect on June 1.
The law, which was never enforced, stipulated that "indecent acts between males" could result in up to five years of imprisonment. Individuals hosting these acts on their property could face up to a decade in prison under the Crimes Act of 1969.
Cook Islands Prime Minister Mark Brown celebrated the occasion on Facebook, stating that his party has kept its promise to eradicate LGBTQ+ discrimination in society and uphold constitutional human rights commitments. The bill's passage is a significant step towards greater social acceptance and respect for LGBTQ+ rights in a country where homosexuality is still a taboo subject.
Prime Minister Brown spoke in the Parliament after the passing of the bill and said that today was an exceptionally good day to be the Prime Minister.
"The role of any government is to protect its people and their rights," PM Brown said.
"We are the government of all our people and not just the government of some of our people. And as a government, we must protect the rights of all of our people especially the minorities in our communities.
"It is not the job of government to tell people what their sexuality is. It is not the job of government to absolve sin. It is not the job of government to tell people how they can or cannot have sex. The government does not have a place in the bedrooms of our people.
"We are a free country. We have freedom of speech, we have freedom of expression, we have freedom to worship, we have the freedom to observe our Sabbath whether it be on Saturday or Sunday, we have freedom to start a business, we have freedom to work on Saturday or Sunday. We have freedom to love who we want to; we have freedom to be who we want to be. We all should have the right to live our lives free from discrimination.
"We are a people of love and respect. Today we have done our job as lawmakers. We have removed a discriminatory and unjust law that goes against our constitution and our values as a nation. We have done what is right and what is just. We are protecting our people."
The bill's passage has been warmly welcomed by the Cook Islands' rainbow community, with Pride Cook Islands President Karla Eggelton expressing her gratitude to all who contributed to this milestone.
"We have made history," Karla Eggelton explained to The Cook Islands News.
"On behalf of Pride Cook Islands, we congratulate our Prime Minister and his government for doing the right thing – Love is Love! Te Iti Tangata, hug the ones you love, and now you can tell them they belong. We are one."
The move could also have a positive impact on tourism in the region, as it demonstrates the Cook Islands' commitment to promoting diversity and inclusion.
Justice Minister Hon. Mac Mokoroa emphasized that the government has no place in the bedrooms of the Cook Islands' citizens, and that individuals' sexuality cannot be dictated, sins absolved, or sexual activity regulated. The bill also aims to provide greater protection for victims of sexual crimes.
The Bills also removes marriage as a defence against rape, said PM Brown.
"Domestic violence and domestic sexual abuse against women or against men for that matter can no longer be accepted just because you are married. No more."
The Prime Minister reiterated that the Bill would not impinge on anyone's rights of religious expression.
Last Updated on Apr 16, 2023
The news team for
Gay Nation
love tips from our readers. Got tips or a news story that you would like published?
Go here to tell us something.
Visit the Gay Nation store Now