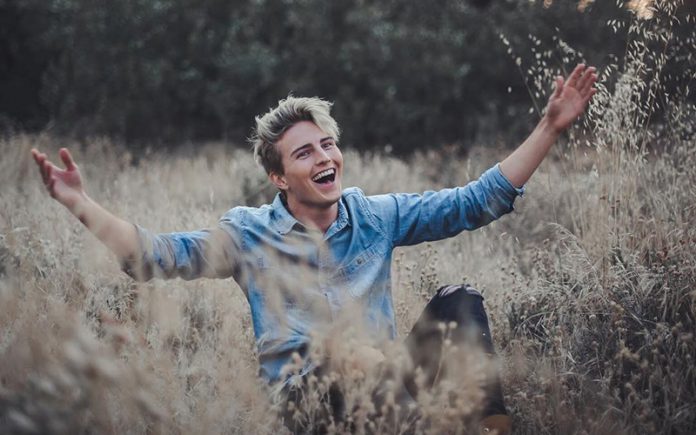 4
min read
When 14-year-old Drew moved to Los Angeles with his family in 2011 anything was possible.
He had been singing since he could remember and had always kept the advice of his aunt when she heard him singing 'Part of your World' from 'The Little Mermaid' at age of 5. She said to him never to stop.
But could this young man tame the city where so many dreams have been made?
Fast forward to 2016 and the accomplished theatre performer, actor and singer is now 19, still young in Hollywood terms, but ready to embark on the next stage of his career.
With more than 40,000 followers on Instagram, 13,000 on Twitter and his own VEVO Youtube channel today Drew Patrick announced that his Debut EP will be released in February.
The announcement follows a year almost to the day of the release of his first single 'We Generate a Spark' and his recent nomination for that single at the Hollywood Music Awards.
Eikon was lucky enough to spend some time with Drew in Los Angeles and find out about his career, his life and what drives him.
"I am beyond excited about my debut EP, 'Barely Legal', finally coming out on February 3rd of next year (2017)," Drew explained to eikon in Los Angeles.
"I have spent this past year working so hard on writing/rewriting, recording/re-recording and pouring all of my heart and vulnerability into it.
"I'm just so excited for people to finally experience this new chapter of my work."
Drew's early life was spent moving across America from Florida where he was born to Wisconsin and then back to Florida before eventually landing in California.
But it was early on in his life that Drew knew he was different.
"I guess I knew when I was really young… It was just unfathomably confusing because when I was growing up, sexuality was popularly limited to just "gay" and "straight", which made things difficult for me because I didn't necessarily fit in either one of those boxes," Drew remembered.
"I just saw people and took interest in whomever I had managed to develop a connection with not taking something superficial, like their gender, into account.
"I told my mom I thought I was pansexual when I was 16. She was very loving and supportive, so I am very fortunate to have received that level of positivity in my life.
"It has been an interesting ride since then, however, because even though she accepted it, she didn't necessarily understand it, but she has been learning and growing for three years now since I told her, so she's almost a pro.
A pansexual person is attracted to all genders or that gender is not a factor in who they may fall in love with or are attracted to.
Drew's sister Valerie has been the most supportive, "Probably due to the fact that she is growing up in a world that, though still prejudiced in some places, is becoming more openly accepting and willing to understand that sexuality is not a choice.
"She loves me so much and actually, encourages me to be more forthcoming about my pansexuality, as do my best friends, Kira and Sarah."
It is one thing that strikes you about Drew when you are sitting down speaking with him. He has an incredible calmness and confidence which doesn't come across in an arrogant way but in a way of inclusiveness and comfort.
"To me, sexuality is just another characteristic of one's self- like having blond hair or being tall.
"In regards to sexuality, I kind of defy the popular gravity that is taking pride in the labels that society gives to individuals in order to place them in categorized boxes.
"The connotations that go hand in hand with these labels are what make people so terrified to be themselves in the first place. It certainly did for me.
"This is not me shaming people who do take immense pride in these labels because that is their personal choice, and I respect them regardless, but when it comes to my life and my sexuality- instead of taking pride in a label and letting it define me, I just take pride in myself.
Drew has already tackled acting through theatre, film and television, including a couple of independent films and the television show Unusual Subjects.
"My first job in LA was in a film called 'Detained in the Desert', and I played a murderer. In my episode of "Unusual Suspects", I played a murder suspect.
"It was always so funny to me because I am the opposite of violent. One of my favorite mantras is 'kill with kindness'."
But it is singing and song-writing where Drew has found his centre which helps him to remain humble and grounded.
"When I was 16, I took a couple of my songs to a family friend who produces music and asked him to help me find my voice.
"I discovered that there was a certain vulnerability in being a musician that requires one to be authentic and genuine.
"I found that refreshing and when I experienced that feeling for myself, I knew I had found what I wanted to do for the rest of my life."
As the career of this teenager takes off, he continues to reflect on those that have helped him along the way and that are sure to be with him along the journey including his late Grandma Caroline.
"She passed away in 2007 from cancer, but she was by far one of the strongest and revolutionary individuals I have ever met.
"I feel her energy and strength with me in low moments and it always helps me to persevere and stay positive even in the most difficult circumstances."
And Drew's fascination with Disney continues from those early days when his aunt heard him sing The Little Mermaid song.
He now visits the Disneyland parks on a regular basis and you can see it in his eyes, he is currently living one of Walt Disney's very own mantras, "All our dreams can come true, if we have the courage to pursue them."
"I believe that love and kindness are more powerful than any force derived from negativity," said Drew.
"Always keep love and kindness in your heart, it is so important to remember that."
---
Drew's current single We Generate a Spark is available here. His debut EP is expected to be released on Feb 3.
Instagram: @imdrewpatrick
Twitter: @imdrewpatrick
Snapchat: @drewpatrick143
Last Updated on Nov 21, 2016
The news team for
Gay Nation
love tips from our readers. Got tips or a news story that you would like published?
Go here to tell us something.
Visit the Gay Nation store Now