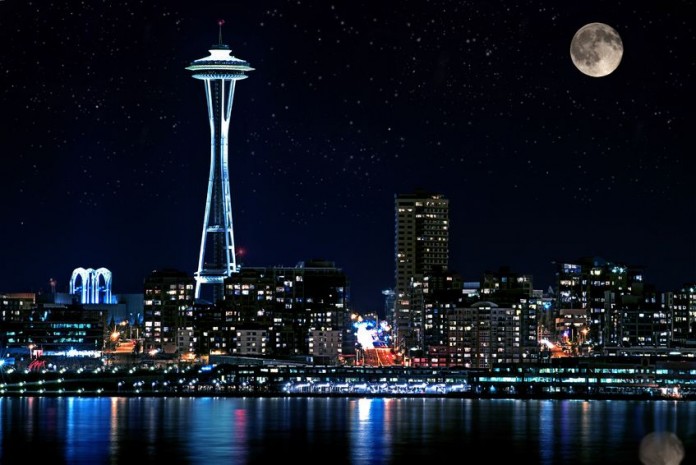 4
min read
Seattle is renowned for its rain. Its position in the far north west of the United States, close to the higher alps and tucked in between the extinct glazier and the warm pacific ocean causes most of that.
But what you don't realise, until you get to Seattle is how hilly it is and that it doesn't matter where you want to go, unless you have a car, then you'll most likely walk…..a heap.
When working out where to go out the first thing you find is there's lots of options and its not the easiest to work out whether its gay, straight or mixed. So I thought lets put together a short gay guide to Seattle.
Websites help a great deal and some apps, but to really feel a place, then just get out on the pavement and check the places out….just don't forget your umbrella or your Uber app.
Early on in the night a good sportsbar is always a way to ease into the night with a few quiet Budweisers and check out Thursday night Football on the big screens.
After doing some research I found a pub called Madison and headed to the Capitol Hill region. From the outside it didn't look much, cross between a car yard and a bottle shop, but once in you find its the traditional all American sports bar.
Pool tables, air hockey, pinball machines, beer on tap and TV's everywhere. Oh and older, relatively hairy men.
Suffice to say the barman was great and the beer was cold but I was out of there in less than 45 minutes.
Following the most amazing dinner I had in Seattle, at a very trendy (everyone seemed to go there) Mexican styled place called Poquitos I wandered across to a highly rated gay bar, still in the Capitol Hill region called Purr.
Now I know….it screams queens doesn't it. Well on a Thursday night the complete opposite was the case.
But before I get to the bar, one of the tips I picked up as I headed into Purr.
In Washington State, its a requirement by authorities that anyone from overseas must carry their passport when entering establishments. I had seen this before in some parts of Europe but never in America. I got warned this time but never left my passport at home after that.
Purr is set in a backstreet of Capitol Hill, which by day would be trendy offices and warehouses, at night its dimly lit and yet the venue is small but modern.
Booth seating on the sides and lots of tall tables, the bar, set on the right is big enough but doesn't intrude on the venue.
I would expect a busy night of clubbing would see this place bursting at the seams but tonight its relatively quiet.
The crowd is a mixture of well dressed twinks, their older boyfriends and some straight couples but its the entertainment that stands out at Purr.
The Thursday evening show was called 'Dueling Pianos'.
Now that's not a play on some sexual words, its actually as it says. Two pianos in the middle of the room with two pianists, playing live tunes requested by the crowd all done for tips but mainly for the respect and singing from the audience.
And no song is out of the question, whether it was Judy Garland, Broadway through to the latest top 40 song, these guys attempted them all and pretty much carried it all off.
It doesn't look to be something they do every week, but for a lazy Thursday night, checking out the bar scene of Seattle it was a welcome change from the go go dancers of West Hollywood, or the drag queens of New York City.
To finish the night off it was time to try out a Seattle tradition, or so I was told. R Place is a multi-level venue that's squeezed into an old office block, nothing from the outside, and don't try the website as its old looking, inside…….not much different.
This is your typical american bar turned nightclub at night, couches and booths in the lower levels where the young and blonde parade, share shots and whatever else. Then upstairs the one level dance floor with stages for go go dancers.
The music is a mixture of RnB, house and pop and the crowd just as much a mixture.
At one point I thought the police would bust in at any minute, it just felt as though the crowd was a little tense and some tattooed gentlemen were making there presence felt.
Then all of a sudden the atmosphere changed, some all American college boys arrived, or so it seemed and the party was back on.
This was my first recent experience at buying drinks in the USA after being in Canada previously and the drinks didn't disappoint.
Free-pour is all the rage in Seattle and as long as you tip the waiter well on the first drink, they will look after you all night (or as long as your night lasts).
In fact, many may find it strange that the nights don't last that long in Washington.
You're dancing away enjoying the drink, the music, the young guy starting to make eyes in your direction.
And all of a sudden, the lights go on, the music dims and you are being marched out the front door.
Laws strictly prohibit venues to have anyone left on the premises at 2am.
Keeps the problems under control but seems strange from where we come from.
So the night is over. A mixed night of great American hospitality spiced with music talent, drinking and the odd glance or two.
Seattle's gay scene is not for the faint-hearted, but it certainly has some spice to add to their wet and windy nights.
The reporter traveled to Seattle and visited each of the venues on their own time and money.
Flights to Seattle via Vancouver with Delta Airlines and Alaska Airlines.
Bus travel from Vancouver to Seattle Bolt Bus.
Accommodation in Seattle AirBnB.
Last Updated on Mar 17, 2015
The news team for
Gay Nation
love tips from our readers. Got tips or a news story that you would like published?
Go here to tell us something.
Visit the Gay Nation store Now