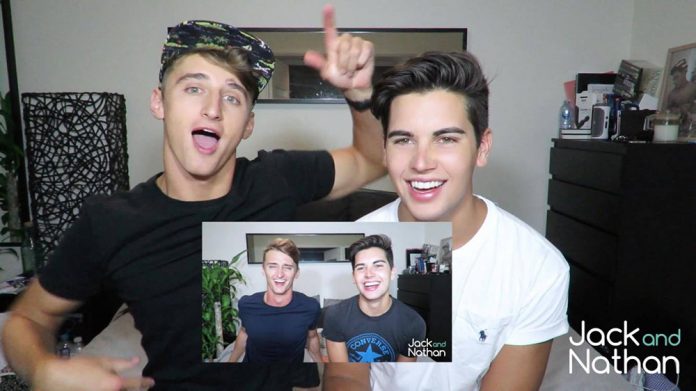 3
min read
As their Instagram following continued to grow past 190,000, Jack and Nathan decided it was time to take up something they had wanted to do for a very long time and enter the YouTube world.
Following on from our story about their Instagram success, we ask the boys why they have decided to take the step to YouTube.
Jack Carter, 23, thinks the YouTube experiment is all about fun with no pressure to emulate their success from Instagram.
"We literally just wanted to have fun. People kept messaging us saying do YouTube, do YouTube."
With such huge numbers of followers between them and both receiving thousands of likes on every one of the Instagram photos, the move to the video format seemed obvious.
"The biggest thing that we have is our engagement levels are quite high," Jack claimed.
"Some people might have more followers than us, 300k or even millions but we have an audience that really likes our photos, they engage with us, they comment on us, they message us on Snapchat and that's part of the reason why we started youtube, the people who follow us actually like who we are and what we post and are not just following us for no reason.
"We are going to have some fun, if it doesn't work it doesn't work, we are not going to be embarrassed about who sees us."
The First Video – The Boyfriend Tag
Nathan Kriis, 22, is a huge fan of the medium and has been watching YouTubers since the early days and is excited about finally jumping onto the video platform.
"I used to watch YouTubers three years ago and sit there and wish I could be doing that," Nathan recalled.
"There's never been a more perfect time to join especially with the kickstart we can get from Instagram."
The big difference with YouTube is there are many huge stars all in their own right but very few couples that have been successful.
Jack understands the challenge but said they could never have done it without each other.
"We had our concerns about it, we were like what happens if we break up what happens if we fight, we fought the first time and it delayed the video a day."
"We had the concern but we know together we have good chemistry but it's not your typical lovey-dovey relationship and we've had people already comment saying why don't you kiss and you look like you're not into each other.
"Even though we are a couple it's just like two friends filming youtube and that's how we want it."
When they launched the channel six weeks ago they teased their social media fans asking them to subscribe without any videos uploaded.
Nathan said they wanted to have 500 subscribers before they uploaded their first video, they were surprised with the result.
"We said we won't put it up unless we have 500 subscribers and that's a big ask," explained Nathan.
"Then we went to bed and woke up and we had over 1000 and its like we have no choice we have to post it.
"We love doing it because it's never dull for us to film with both of us we just grill each other so much we just both enjoy it.
"We hope it takes off but just hope people like it. If we could ever get YouTube to 100,000 that would phenomenal.
"Just to see it grow and just continue growing just like Instagram."
So far the YouTube channel has grown to almost 6,000 subscribers with one of their videos reaching 37,000 views.
One thing that has surprised them already has been the response and comments that appear on YouTube, compared to Instagram.
"People are very serious on YouTube, we are not used to getting criticism," laughed Nathan.
"One comment we got was how on Instagram we sex it up a lot, that we paint this picture and people get the perception that we are a very sexual couple and being flirty and pushing our sexuality on Instagram and then on YouTube we don't follow that up and we are just normal people and don't want to be lovey-dovey," explained Jack.
"Instagram you can paint your life in pictures, YouTube is more real."
"We don't want to change our YouTube to try and please or gain a certain demographic that we don't have at the moment but if they end up following and find it of interest then that's fine."
Their Latest Video – Our First Time
Find out all about Jack and Nathan's Instagram experience here.
Visit Jack and Nathan on Youtube here
Nathan on Instagram @nathankriis
Jack on Instagram @theonejackwade
Last Updated on May 27, 2022
The news team for
Gay Nation
love tips from our readers. Got tips or a news story that you would like published?
Go here to tell us something.
Visit the Gay Nation store Now