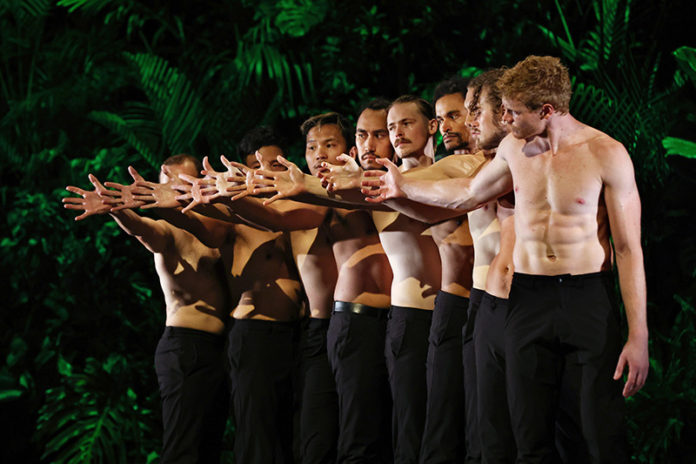 4
min read
At one point in the brilliant Shaun Parker production of KING, lead dancer Toby Derrick picks up a solid silver ball, about the size of a golf ball, and manipulates it through his hands and arms like it is magically possessed by something else.
This was a powerful yet relatively calm piece in a production that, at times, travels at break-neck speed, showcasing the prowess and strength of all ten dancers and the brilliance of Shaun Parker.
KING is Tribal. It's set in a mysterious setting that is part cocktail bar, hence the chandelier sitting on stage for the entire performance and part jungle with bright green trees covering all perimeters of the stage. But it is the feeling that these performers are not dancers but tribal warriors, in the most simplest of ways, that leaves you gasping for air the same way they are on stage.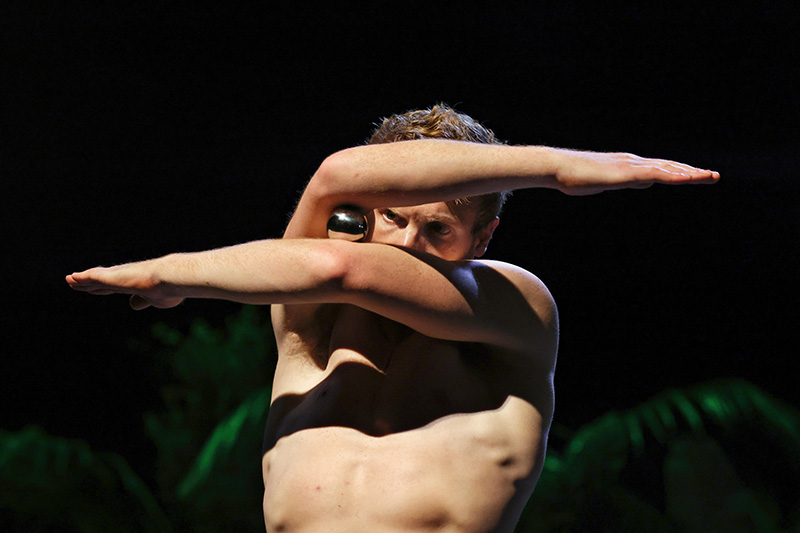 This production first appeared at Sydney Mardi Gras in 2019 before travelling to many parts of the globe including the middle east. Due to Covid, things were curtailed somewhat but Shaun and the dancers needed to be inventive to keep dancing.
"When Covid threatened to lock us down for the second time, the dancers and I huddled together and decided that we would move north so that we could keep dancing and touring," Parkers said.
"Within two days we packed up, left Sydney, and flew to Darwin, where we lived in quarantine for two weeks in 'dongers', small army-like cabins at Howard Springs."
The dancers entertained campers in quarantine, including returning Olympians who were also stuck there, and eventually rallied and performed to audiences right around the top end from Darwin to Cairns and then down into Queensland to the Gold Coast.
"We performed to over 70,000 people during this time, and it was so rewarding to see 70,000 smiles resulting from our dance shows which all took place in outdoor public spaces. It was the best decision that my dancers and I could have made."
Since returning to prepare for this season of KING at the Seymour Centre in Sydney as part of WorldPride, very few changes have been made and only one cast change has occurred across the three-year period.
"We have retained almost all of the original cast. One retired from dancing and so we have one new member amongst us. And we are thrilled that Ivo(Dimchev) continues to fit KING into his incredibly busy international career schedule. Basically, everyone is very committed.
"Every time we perform the work we refine it, so there are some subtle changes that have happened over time. We have also added a couple of new scenes just before opening this week, always keeping it fresh."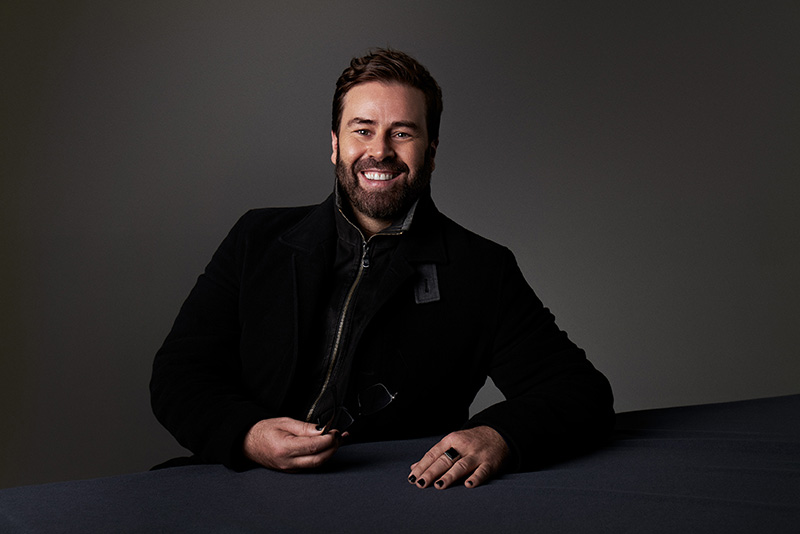 The freshness is evident and the commitment is undeniable. For two-thirds of the performance the dancers strut around in a full suit and tie just like they are at a cocktail function and it is not until they remove their shirts you can see the sweat they have accumulated and the power they have in their bodies in this gruelling performance.
Although there is a very serious tone and premise to the storyline, lighter moments appear throughout, mainly through the character danced by Joel Fenton, who is the shortest of the troupe, allowing him to be easily thrown around (literally), but he also has great comedic timing with the others, particularly with Derrick. In one scene Fenton uses a microphone to create a beat by rubbing it up against himself as he serenades Derrick. A brilliant idea executed superbly and adds to the funny side of the show.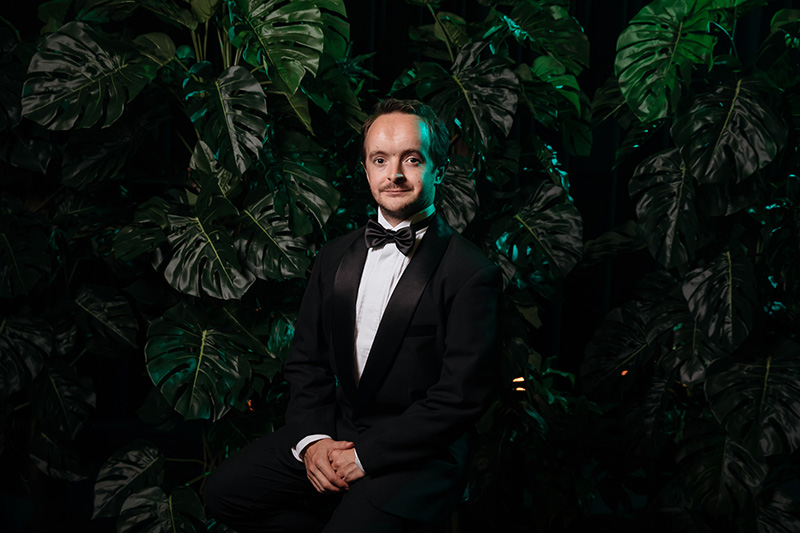 The cast is as unique and diverse as the storyline. Samuel Beazley is a Maori who is a Sydney-based creator and mover, Imanuel Dado trained as a B-boy since he was 15 and graduated from Western Australian Academy of Performing Arts and Max Burgess, in their first professional production, is a queer artist who has just recently graduated from the New Zealand School of Dance.
And how could we forget what binds this Shaun Parker production together? The stunningly haunting yet soothing sounds of Ivo Dimchev. Dimchev is a performer, choreographer, visual artist, singer-songwriter and composer from Bulgaria and brings that Eastern European sound to the production.
In particular, the soft sounds he makes when the music is not playing are almost more powerful than the music itself. He has the ability to wrap his mouth around a microphone and have it release the perfect tone at the perfect time.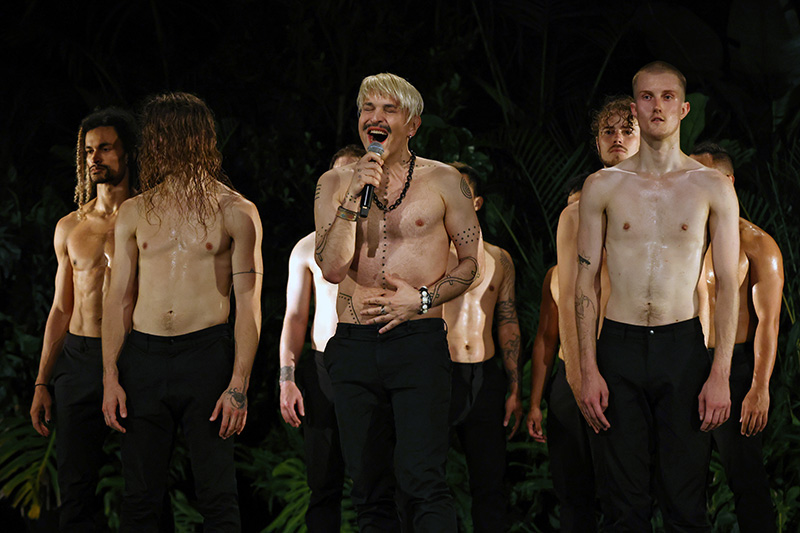 After all the hiccups from covid, Parker is now excited to be presenting the show again at Mardi Gras finally and this time to a WorldPride audience before he takes the show overseas again in the middle of the year.
"Two years on, we are thrilled to finally return to the mainstage, presenting KING at Sydney WorldPride Arts before touring to Germany and Luxembourg in June 2023," Parker said.
"KING missed out on many tours overseas because of the pandemic, but it shall now rise like a phoenix from the ashes of covid and tour the world."
KING continues at the Seymour Centre Sydney's Everest Theatre until Saturday, March 4th. Bookings can be made here.
Last Updated on Mar 4, 2023
The news team for
Gay Nation
love tips from our readers. Got tips or a news story that you would like published?
Go here to tell us something.
Visit the Gay Nation store Now