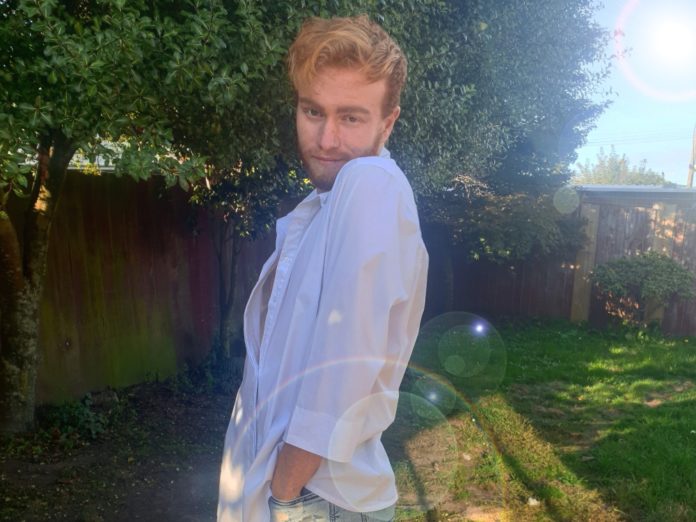 4
min read
Despite the postponement of Mr Gay World 2020 due to the global pandemic, Mr Gay New Zealand 2020 Liam Reid, has not let the lockdown halt his preparations ahead of the competition set to be held in South Africa once the pandemic is under control.
– Liam tells gay nation about the 5 steps he is taking to prepare for Mr Gay World during the lockdown
I hope you are all well in these trying and testing times that we currently live in.
I've been thinking about all of you and figured, why not give you a glimpse into the window of my life and how preparation for Mr Gay World has been going.
Though life in a tent has been pretty glam, not gonna lie, there have definitely been some challenges … From an air bed that is constantly deflating – and no, not from having a good shag … Oh no no, none of those shenanigans to be had in my lockdown, through to taking far too many selfies – quite tasteless and overly revealing ones to lure naughty boys into a thirsty trap where I tell them off for trying it on! Call me the Grindr police.
My sexual frustration knows no bounds and so to keep myself focused I have had to write a guide for the day to keep myself productive and focused…
STEP 1 – Wake up! Quite a HARD one to do these days, but naturally one has to wake up from what would ideally be a rough one, but sadly is boring and straight forward. Moody tends to be my usual look pre 11:59 am these days and I heard that it is an early start for Mr Gay World, so let us hope the pageant side of things won't start till after midday.
Pro tip – I also tend to practice some back arches of a morning just to maintain 'powerbottom' flexibility, so that I am ready to go once our guiding lady gives us the green light to bang away … Tip for young(er) players, be PREPared in more ways than one. Green and silky are my choices of morning gown, allows me to slide in and out … of bed with ease, almost acting like a form of lubrication.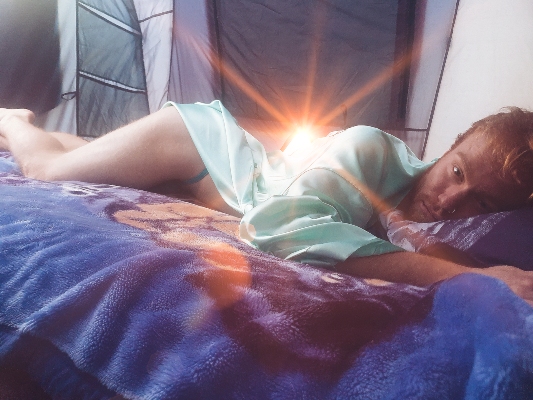 STEP 2 – Play with the dogs. Now some of you may be thinking "What's the point in playing with a dog in preparation for Mr. Gay World?" WELL let me tell you … These dogs are high energy and need to be walked, or ran, regularly! So, great for the stamina and strength (which is great for several things post COVID-19 lockdown)!
These badass bitches are incredibly strong, and with there being two of them, I am definitely getting a workout. They have a great way of sneaking up on you too, so being ready for anything is really important – another great trait for Mr Gay World. On top of all of this dogs are fun and loving creatures, and connecting with animals in this lockdown has been really important for me, it has kept me sane.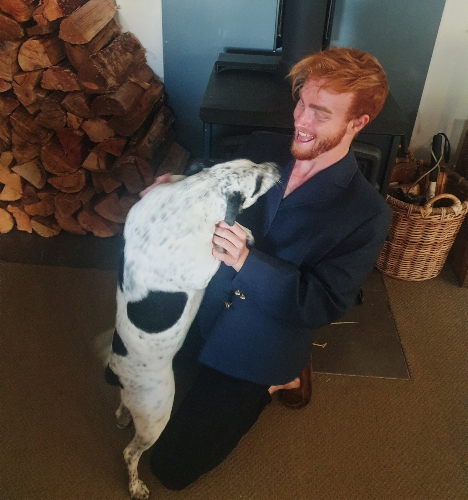 STEP 3 – Working out! Crucial in my Mr Gay World preparation, I mean have you seen some of my competition! Heaven knows that I may not come first, but I'll definitely be cumming first. Now for some reason working out has been somewhat challenging for me … My sister tells me that I am not using the gym equipment correctly, that I am wearing inappropriate clothing and shoes … I beg to differ.
My footwear makes my legs and butt look great in photos! It also gives me a wider range of motion for my squat – I can get much lower, bounce a little and then stand right back up! Honestly, heels are very VERS… don't know what she is talking about. Aaaand she also has a cord machine which I have put to great use for rest times! Great power pose too.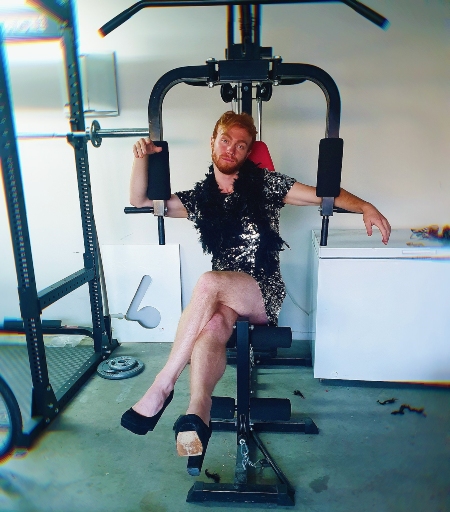 STEP 4 – Afternoon siesta! Now this is important. I often find myself flopping onto the bed at random times throughout the afternoon. I tend to do a few more back stretches, split stretches and various other leg stretches to aid in loosening up and stretching out my muscles … for tomorrow's work out!
A little nap is great to help in restoring the energy levels after a vigorous session. I also use this time to reflect, to take a moment and appreciate my day and my life, take a few THOT worthy over-the-shoulder picks showing a bit of cheek, BLOW up my mattress, that sort of thing.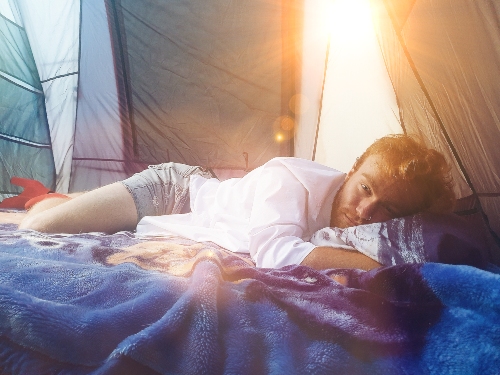 STEP 5 – Relax! Again, another really key point in my Mr Gay journey. A lot of previous winners have said taking time for myself is crucial and really important to keep a level head. I guess I could be taking them very literally with my innate ability to be able to lounge anywhere I please. But they're right – take time for yourself!
A little bit of self-service goes a long way … cough cough. Due to COVID-19 lockdown, all of my closest and dearest silicone friends have been left in Wellington! So I do have to apologise to all of the patrons of Christchurch's Peaches and Cream because the shelves were a lot less stocked after a certain little red-head was finished in that store.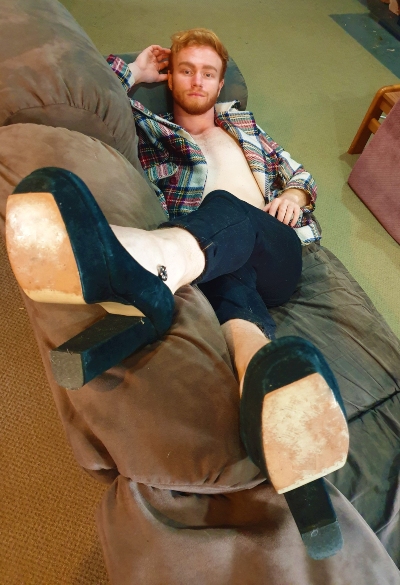 All in all, as you can tell, my preparation for Mr Gay World has been rather … indulgent. If you have any other tips, (or more than just the tip) let me know. I enjoy a good stretch and will always accept a helping hand.
Please keep your head up and hang in there, this ride is soon to be finished and we can return back to some form of normality, book in your regulars for after level 3.
Last Updated on Apr 20, 2020
The news team for
Gay Nation
love tips from our readers. Got tips or a news story that you would like published?
Go here to tell us something.
Visit the Gay Nation store Now