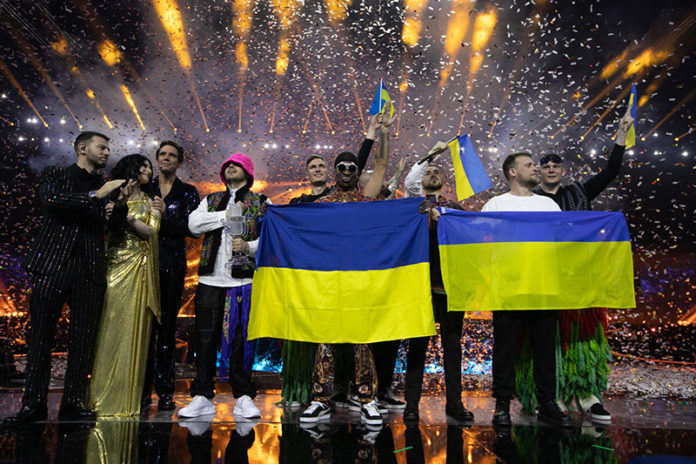 3
min read
Kalush Orchestra have won the 2022 Eurovision Song Contest for Ukraine with their song 'Stefania'.
After the jury scores were tabulated, the United Kingdom's entry Space Man by Sam Ryder was leading the pack with 283 points, with Sweden and Spain close behind with 258 and 231 points.
After a tension-packed vote announcement, it was revealed that Ukraine claimed top marks with the public from throughout Europe and Australia with 439 points.
With those numbers aggregated, Ukraine claimed the win with 631 overall points.
This is the nation's third win, following victories in 2004 and 2016, a year where they defeated Australia's Dami Im with a similar political, public vote count.
Kalush Orchestra formed as an offshoot of the rap group Kalush, focused on blending modern hip-hop sounds with the motifs found in the traditional music and art of Ukraine.
Together, Oleh Psiuk, Ihor Didenchuk, MC KylymMen, Tymofii Muzychuk, Vitalii Duzhyk, and Sasha Tab create a sound and vibe that all of Europe responded to tonight.
The band began with a message of gratitude to all the voters across Europe who had awarded their song with a record-breaking tally of points, as well as the juries who had voted in their favour, too.
"We want to thank everyone out there who voted for Ukraine. The victory is very important to Ukraine, especially this year. For us, this support is even more important for Ukraine in these times. And we really appreciate that you helped us with your votes."
The artists express their belief that while this is a great win for Ukraine at the Eurovision Song Contest, it is also a tremendous victory for Ukrainian music, which they hope is going to be explored and spread widely as a result of them taking the Eurovision trophy.
"Any victory is very meaningful to Ukraine these days. We are here to prove that Ukrainian culture and Ukrainian music are alive, and they have their very own sound and special signature. You can listen to Ukrainian music, watch Ukrainian films, and visit Ukraine. Apart from us, there are so many talented people in Ukraine doing music and doing so many other creative outlets. We would invite you to support them and follow them, too."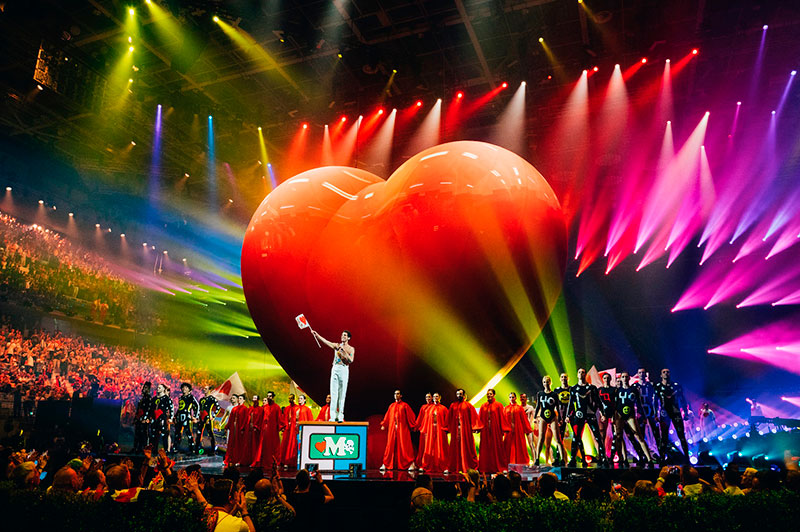 One of the favourites to score well, Australia's Sheldon Riley, was popular with the professional juries, which are made up of participating countries that can vote for each other but not themselves.
Riley was dressed in a flowing white outfit weighted in pearls and paired with a crystal mask when he took to the Eurovision stage to sing Not The Same.
Riley received a respectable 123 points from these juries.
But when those points were combined with the public vote, his overall score was 125.
Meaning he received only two votes from the public.
When that was announced, the room showed its support for Australia, which has been a participant in Eurovision since 2015 when it competed in the 60th anniversary of the song contest in what was meant to be a one-off affair.
"This has been the most incredible experience of my entire life," Riley said.
"It's all I ever wanted."
He went on to say he was told for a long time that dreaming of performing in Eurovision was futile.
He was not too worried about where he placed. He was happy to have made it to the grand final.
"My performance was received so well by the room and it means the absolute world," Riley said.
"This is everything I could have dreamed of."
Eurovision Song Contest 2021 – The Results:
🇺🇦 Ukraine: Kalush Orchestra – Stefania(631 points)
🇬🇧United Kingdom: Sam Ryder –Spaceman(466 points)
🇪🇸 Spain: Chanel –SloMo(459 points)
🇸🇪 Sweden: Cornelia Jakobs –Hold Me Closer (438 points)
🇷🇸 Serbia: Konstrakta –In Corpore Sano (312 points)
🇮🇹 Italy: Mahmood & BLANCO –Brividi (268 points)
🇲🇩 Moldova: Zdob și Zdub & Advahov Brothers –Trenulețul(253 points)
🇬🇷 Greece: Amanda Georgiadi Tenfjord – Die Together (215 points)
🇵🇹 Portugal: MARO –Saudade Saudade(207 points)
🇳🇴 Norway: Subwoolfer –Give That Wolf A Banana (182 points)
🇳🇱 Netherlands: S10 – De Diepte (171 points)
🇵🇱 Poland: Ochman – River (151 points)
🇪🇪 Estonia: Stefan –Hope (141 points)
🇱🇹 Lithuania: Monika Lui – Sentimentai(128 points)
🇦🇺 Australia: Sheldon Riley –Not The Same (126 points)
🇦🇿 Azerbaijan: Nadir Rustamli –Fade To Black (106 points)
🇨🇭 Switzerland: Marius Bear –Boys Do Cry(78 points)
🇷🇴 Romania: WRS –Llámame (65 points)
🇧🇪 Belgium: Jérémie Makiese –Miss You(64 points)
🇦🇲 Armenia: Rosa Linn – Snap (61 points)
🇫🇮 Finland: The Rasmus –Jezebel(38 points)
🇨🇿 Czech Republic: We Are Domi –Lights Off (38 points)
🇮🇸 Iceland: Systur – Með Hækkandi Sól (20 points)
🇫🇷 France: Alvan & Ahez –Fulenn (17 points)
🇩🇪 Germany: Malik Harris –Rockstars (6 points)
Last Updated on May 16, 2022
The news team for
Gay Nation
love tips from our readers. Got tips or a news story that you would like published?
Go here to tell us something.
Visit the Gay Nation store Now