2
min read
A team of Spanish researchers has discovered an HIV-resistant gene that could be good news in search of a cure for the virus.
For members of a Spanish family, it was a muscular disease which they had to live with every day but for HIV patients, it's a beacon of hope.
Madrid researchers reported on Thursday that a new, extremely rare genetic mutation is creating natural immunity to the AIDS virus.
A first mutation, transmitted to "A Berlin patient" Timothy Brown a decade ago, had already proved its effectiveness. The stem cell transplant that he had received – which contained a rare mutation in the CCR5 gene – had cured him of HIV.
This time the mutation concerns the gene TNPO3, and appears in very rare patients who have a muscle disorder called "muscular dystrophy type 1F belts ".
Doctors who were studying the case of this family realized that this gene was at the heart of the work of researchers on HIV. Indeed, it had already been identified that this gene played a role in the transport of the virus inside the cells.
Geneticists in Madrid tried to infect the blood of this family with the AIDS virus in the laboratory, and the result was surprising: their lymphocities were resistant to HIV.
"This helps us to understand much better the transport of the virus in the cell," explained in French Agency Agence France-Presse José Alcami, the virologist of the Institute of Health Carlos III in Madrid who conducted these research published in the American magazine PLOS Pathogens.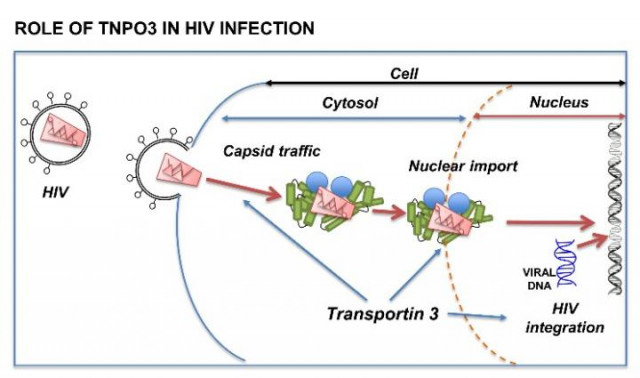 The production of a drug from this discovery is still a long way off but, it could, however, allow scientists to know more about the virus, including the resistance of some people to infection, as the virologist still points out: "There is still much that is not well known about HIV. For example, it is not known why 5% of patients who are infected do not develop AIDS. There are mechanisms of resistance to infection that are very poorly understood. "
Research is progressing
The good news is, however, linked in the research against the AIDS virus. Recently, a team of US researchers successfully eliminated HIV from the genome of several mice through a combination of two techniques involving the action of anti-retroviral drugs and a "cleansing" of the genome, to eliminate cells containing HIV.
Last Updated on Sep 3, 2019
The news team for
Gay Nation
love tips from our readers. Got tips or a news story that you would like published?
Go here to tell us something.
Visit the Gay Nation store Now