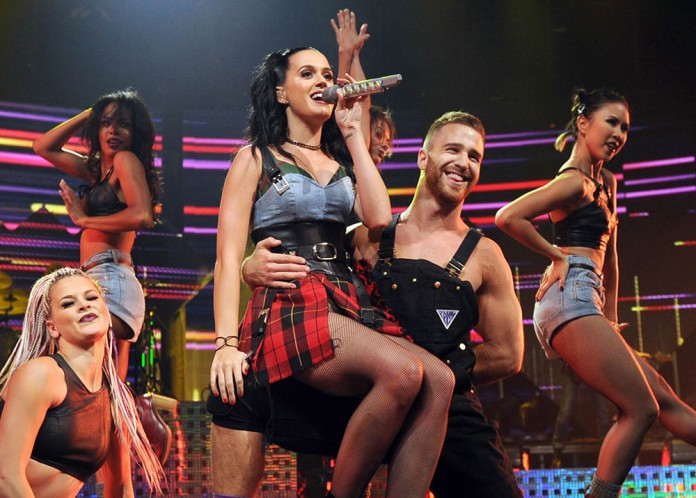 5
min read
The young lad from Tasmania was always told "you're great for broadway" and there he was, performing in one of the most popular theatre productions in the world, Wicked, and he was still only 19.
But there was a burning passion, the passion of a boy growing every day and wanting to experience the world.
Following his stint in Wicked, Locky vacationed in the United States and eventually after three months started taking dance classes in Los Angeles and testing the waters by auditioning for big US dance talent agency MSA.
"I wanted to experience an American audition, I really had no other expectations other than simply wanting the experience," Locky explained to Eikon.
"In the first audition there were approximately 500 people there.
"We did two different rounds, jazz and hip hop and then following this they would call anyone that they liked.
"Two weeks later they called me and offered me representation."
It was the break Locky needed but he didnt have any way of working in the USA without a visa.
"They put me in the right direction of a good attorney and eight months later I was living in LA.
"Three months living in LA and I was dancing with Katy Perry at the EMA's in Madrid.
"This would be the first job and the beginning of my career with Katy for the next five years."
Through numerous concert performances, television appearances and film clips, Locky was finally living out the dream that he had portrayed in his lounge-room in Launceston all those years ago when he danced along with Britney, Janet and Christina.
One of Katy Perry's biggest hits is Teenage Dream and that was exactly what Locky was living through.
But it wasn't without some controversy. After two and a half years touring with Perry, Locky was contracted to perform with Taylor Swift.
In a scenario that the American gossip magazines suggested was the catalyst for a falling out between the two international stars, Perry invited Locky and two other dancers to re-join the promotion tour for her Prism album and they left the Swift tour for Perry's.
In an interview with the Launceston Examiner in late 2013, Locky admitted they were invited back to Perry's tour.
"I was with Taylor for the first six months," he told the Examiner.
"It was a great experience and she's a great person to work with, but then Katy contacted us.
"Obviously we were with Katy for 2 1/2 years, she's like family to us, so we were, like, `absolutely'.
"We weren't really dancing in Taylor's tour anyway so I had got a little bored and I really wanted to do a promo tour."
Recently Locky was interviewed on the red carpet of the Prismatic Tour Movie Premiere in Hollywood and was asked about life on the road with Katy and the whole Taylor Swift issue. Source: Hollywood TV via Youtube
It is clear Locky has a special relationship with the pint-sized star and he continues to work with her, just completing the most recent Prismatic World Tour through Europe.
"I have been very fortunate to have met and been around some incredible people over the past few years while working for Katy, it truly has been amazing.
"Something that will forever be the most amazing experience will of course be the SuperBowl (2015) half time show with Katy.
"Not only is it the Super Bowl the biggest sports event aired to 118 million viewers in America and whole World, but because I have spent these five years working with Katy, I've seen her rise, I've seen all her successes and have been apart of all those events.
"The Superbowl was definitely the icing on the cake."
Along with the Super Bowl, Locky has been lucky enough to meet President Obama and appear on popular US TV shows Glee and True Blood.
"Glee was my first legal job here in America," Locky explained.
"When I booked Glee and was able to actually do the job I was over the moon."
Locky has had two stints on Glee, the first was appearing in the famous "Britney" episode that was dedicated to Britney Spears in season two.
"Working with Zac Woodlee and Brooke Lipton (the shows choreographers) was an experience I will never forget.
"I was definitely nervous, plus I was working with well experienced dancers in LA.
The second visit to the Glee set was working alongside Kate Hudson at the beginning of season four.
The True Blood experience was more about performing for dance royalty.
"The choreographer was Margurite Derricks who in the dance world is basically God.
"Getting the experience to work with her was something I will always cherish.
"I auditioned for her straight after I had stepped off the plane from India, where I had been with Katy doing a show.
"At the audition I noticed we would have to dance in our underwear or speedos.
"If anyone knows what its like traveling those longs hours on the plane knows that some people swell up while on the plane.
"This was exactly the case for me, I got to the audition swollen as hell and had to do the whole audition in my speedos.
"Despite this, I landed the job and working on this show was a great experience they were so kind to us dancers."
Locky suggests one of the toughest hurdles to get over as a dancer is rejection, particularly when you first enter the industry.
"I think rejection is the toughest as a dancer starting to begin their careers.
"Everyone goes through it in every job but I think as a dancer it hits us a little harder because there aren't a plethora of jobs out there for us.
"It's also really hard to know what will work for you.
"We have so many people telling us you need to look like this, like that, skinnier, more muscles etc etc. this can be very confusing for someone that is beginning in the industry.
"At the end of the day just be you."
Dancing is one of those professions that most people are not surprised to hear of a dancer being gay or 'coming out', but it can still be something that is hard to do.
For Locky, he still needed extra family support to be brave and tell his parents.
"I came out to my family when I was 21.
"I told my sisters first and they helped me be brave and open up to my parents.
"I have a very supportive family so it wasn't a shock to them."
In terms of the industry, Locky said its an individuals decision whether they are open or not about their sexuality.
"Everyone is different and people take their own time to come out when they are ready.
"I'm proud to be a gay man and we are so lucky working in the entertainment industry where sexual preference isn't something that is looked down upon."
Locky is a single gay man traveling the world, the perfect catch some would say.
"Yes Locky is single.
"Its hard to have a relationship and travel as much as I have been.
"I have been very career driven over the last few years also, which might also explain my single life."
The future is bright for Locky, even though as yet he doesn't have any firm plans in place for his next step but he intends to go where the opportunities arise and use LA as a base.
"I believe that if there is something that you really want then you can make it happen.
"I've come from a small town, a small island and I dreamt big and made it happen.
"It definitely wasn't easy and there have been push backs along the way but I really really wanted to A – be a dancer and B – to live and work in America and with hard work I made it happen.
"So can you! You have to believe in yourself and your talent."
Locky has many fans throughout the world. His Instagram page is 39k strong and he has plenty of followers on Twitter and Facebook. Show him some love.
Check out the first part of our Locky Brownlie Story here
Last Updated on Apr 30, 2015
The news team for
Gay Nation
love tips from our readers. Got tips or a news story that you would like published?
Go here to tell us something.
Visit the Gay Nation store Now