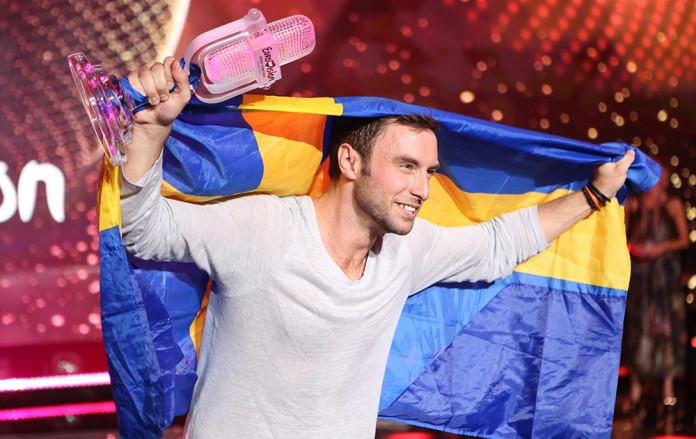 4
min read
Swedish heart-throb Mans Zelmerlow has given his country its sixth Eurovision crown after winning the 2015 event on Saturday night in Vienna.
It was Sweden's sixth Eurovision win – meaning they are now just one victory behind the contest's record holders Ireland, who have won seven times.
Zelmerlow was the bookmakers' favourite throughout the build-up to this year's contest and after the win he dedicated the victory to the students of three schools he sponsors in South Africa and Kenya.
"I'm so happy and I want to say thank you for voting for me," he told the crowd.
"I want to say we are all heroes, no matter who we love, who we are or what we believe in – we are all heroes."
Sweden led the largest ever Eurovision contest of 40 countries including Australia – which was invited to compete for the first time to mark the event's 60th anniversary.
In a moment of world acknowledgement and national pride, Australia's Guy Sebastion pumped out an amazing performance of Tonight Again under the influence of a heavy cold and the European countries responded ranking Australia in fifth place behind Russia, Italy, Belgium and winner Sweden.
So after four hours of singing, dancing, scripted hosting and the odd link drop-out between countries what were some of the highlights/lowlights of the event.
1. Sweden Victorious
The winner takes all the spoils at Eurovision and in the end Mans Zelmerlow's performance was polished, high energy and very technical and above all memorable. Zelmerlöw caused controversy in Sweden in 2014 – after claiming that gay sex is unnatural on a celebrity cooking show. The singer had stunned other guests into silence by calling homosexuality abnormal, claiming "it isn't equally natural for men to want to sleep with one another". However, the singer apologised extensively for his comments and worked with Swedish LGBT groups – and even suggested he would consider dating a man. We forgive you Mans.
2. Conchita Wurst
What can we say, last years winner Conchita Wurst looked stunning across all three shows of Eurovision this year and her voice matched her looks. At times she was great with interviews at other times it was back to the normal standard interviews of Eurovisions past but all in all she has grown as a star in the past 12 months.
3. Spain's Hot Dancer
The Spanish had a night to forget only managing 15 points but they did have one very big thing in their favour during their performance. It was sexilicious dancer Giuseppe di Bella that stole the show. Early in the performance he lays dead on the centre of the stage and then follows up by ripping a long red cape from singer Edurne's body revealing her amazing costume. He then takes her on a stunning dance number throwing her in every direction, but what we see of him is stunning. He is italian (Go figure), dancer, choreographer and IP lawyer…..wow where do I sign.

4. Guy Sebastian – Australia's Top 5
There is word 6 hours since the event that given Australia's stunning performance and achievement to gain Top Five status that this may not be the one and only appearance by the Island Nation. In any case it was a moment of national pride and Guy Sebastian deserves every plaudit for placing us and himself fairly and squarely on the world stage.
5. The Show
Eurovision Finals always go on, but this was the first to drop into the fifth hour and it was led by some elongated breaks in the show which didnt quite seem normal. Maybe it was a case of linking up with the 40 countries taking the telecast but that meant the show moved a little slower and particualrly during the voting when the graphics of showing where each country was on the globe  became tedious. In any case, the first all-female host in the history of Eurovision Mirjam Weichselbraun, Alice Tumler and Arabella Kiesbauer worked well and even with the mistake of not saying good morning to Australia a few times, never missed a beat.
6. United Kingdom – WTF
OK, so they picked a song that sounded more suited for the 1920's and the constumes they had to wear were laboured given all the technology they needed to have strapped to them for the fluoro scenes, but really do you need to bag your own so much. They got five votes, five more than both Austria and Germany and they had a red hot go. The Twitter stream following their performance was like there had been a robbery of gold at the Tower of London and it was all their fault. Anyway, make up your own minds below.
7. Is he gay or European?
The old saying "Is he gay or European" could not have been more true when looking through the performances from the Final. Wow there is some talent there and not only in the singing. Stand-outs, obviously Sweden, even though Mans has had his share of issues with the gay community before.
Belgium's young Loïc Nottet sets hearts aflutter across the globe and whether he's gay or not shouldnt matter, god he can entertain.
The three Italians were true to form, stunning, charismatic and have huge pipes. You will hear a lot more from Il Volo and the boys in the future.
The Austrian's looked like a cross between Jesus and some Australian backpackers, their performance was great with the flaming piano but it failed to gain any support from the Europe voting blocks. Next time champs.
Last Updated on May 24, 2015
The news team for
Gay Nation
love tips from our readers. Got tips or a news story that you would like published?
Go here to tell us something.
Visit the Gay Nation store Now