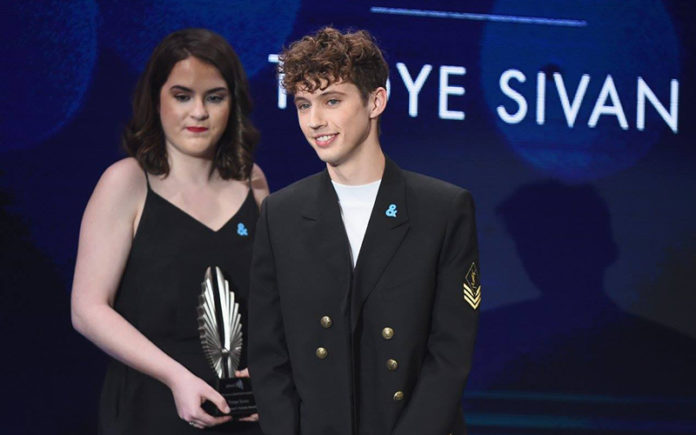 Australian singer/songwriter Troye Sivan has been bestowed one of the greatest honours by his peers at the GLAAD Awards in Los Angeles overnight.
The openly gay former Youtube star was presented wit the Stephen F. Kolzak Award, which honors LGBTQ media professionals who have made a significant difference in promoting equality and acceptance.
The award was presented to Sivan by surprise guest Carly Rae Jepsen joined legendary songwriter and GLAAD Board Member Justin Tranter at the 28th Annual GLAAD Media Awards at the Beverly Hilton.
In his acceptance speech, Sivan called for the industry to pay attention to enormous challenges faced by the LGBTQ community, including violence against transgender women of color and rates of youth homelessness.
He concluded with a message of hope of empowerment, saying, "Don't let anyone strip you of your truth and your love because those are the foundations of who we are as a community."
"In a time where it might be tempting to retreat into the shadows, I ask you to be louder – keep holding hands, keep finding pride in your identity, keep standing up for those in our community who are most vulnerable, keep love in your heart, and share it with the world."
The awards also included a tribute to the lives lost in the Orlando Pulse nightclub attack by Jussie Smollett and a powerful performance of 'Imagine' by Cynthia Erivo.
At the ceremony, Luke Perry and Jeffrey Tambor presented Patricia Arquette with GLAAD's Vanguard Award, which is presented to media professionals who, through their work, have increased the visibility and understanding of the LGBTQ community.
In her acceptance speech, Patricia Arquette called out Attorney General Jeff Sessions and the Department of Justice for ignoring a letter from six Democratic members of Congress calling for a federal hate crime investigation into the pattern of murders of transgender women.
"Can you hear us, Jeff Sessions?" she said.
"You don't need to have a trans family member, or a gay friend, or a questioning kid for this to affect you.
"It doesn't matter what color or gender or faith you are. So many marginalized groups are under attack. When one of us is vulnerable, all of us are vulnerable."
Arquette also remembered her late sister Alexis as a courageous trailblazer who "challenged the movie industry at its core" by living her truth as a trans woman.
"She risked it all because she couldn't live a lie," Arquette stated.
"Whatever mark I have made in this life in activism will always pale in the light of Alexis's bravery. She did not knock on the door of progress. She kicked the door open."
---
Following is a complete list of GLAAD Media Award recipients announced Saturday in Los Angeles. Additional awards will be presented in New York at the New York Hilton Midtown on May 6.
Vanguard Award: Patricia Arquette (presented by Luke Perry and Jeffrey Tambor)
Stephen F. Kolzak Award: Troye Sivan (presented by Carly Rae Jepsen and Justin Tranter)
Outstanding Film – Wide Release: Moonlight (A24) [accepted by: Tarell Alvin McCraney and Trevante Rhodes]
Outstanding Drama Series: Shadowhunters (Freeform) [accepted by: Matthew Daddario and Harry Shum Jr.]
Outstanding Comedy Series: Transparent (Amazon) [accepted by: creator Jill Soloway with stars Alexandra Billings, Jeffrey Tambor, Judith Light, Amy Landecker, Jay Duplass, and Trace Lysette, and producers Zackary Drucker and Rhys Ernst]
Outstanding Film – Limited Release: Other People (Vertical Entertainment
Outstanding TV Movie or Limited Series: Eyewitness (USA Network)
Outstanding Individual Episode: "San Junipero" Black Mirror (Netflix)
Outstanding Daily Drama: The Bold and The Beautiful (CBS)
Outstanding Comic Book: The Woods, written by James Tynion IV (BOOM! Studios)
SPANISH-LANGUAGE NOMINEES
Outstanding Music Artist: Kany García, Limonada (Sony Music Latin)
Outstanding Local TV Journalism: "A la calle por quien soy" Noticias 34 (KMEX-Univision 34 [Los Ángeles])
Outstanding Newspaper Article: "Las discretas batallas LGBTI ganadas en Guatemala" by Sonia Pérez D. (Associated Press)
Outstanding Digital Journalism Article: "6 mujeres transgénero exitosas que rompen moldes en América Latina" by Leire Ventas (BBCMundo.com)