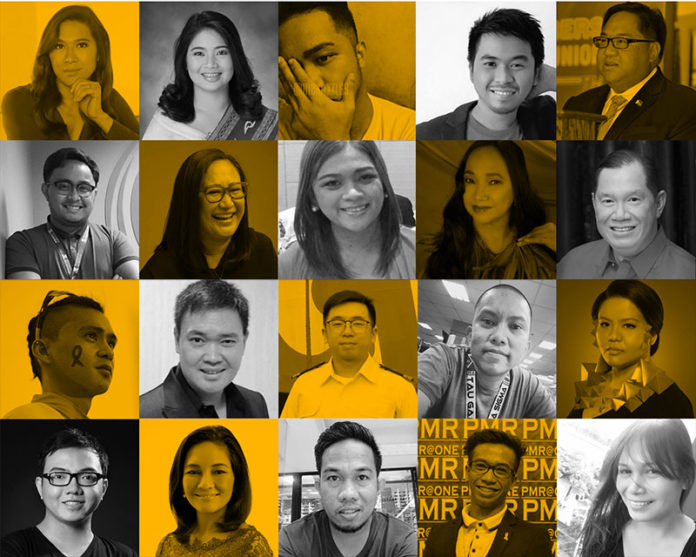 5
min read
After an intensive screening process and rigorous deliberation, 20 individuals were identified to have created remarkable contributions and impact on eradicating the HIV and AIDS epidemic in the Philippines and Asia.
Officially called as Ripplers, these individuals were nominated by the HIV-AIDS advocacy community and discussed by top HIV practitioners and advocates who sat as a panel of judges.
The Ripple Awards symbolizes how an act of love done by an individual can start ripples that turn into waves of positive change saving millions of people from HIV and AIDS.
Out of the top 20 Ripplers, 10 of them will be honoured and vie for the pioneer Ripple Awards for their outstanding efforts and initiatives.
The list of ripplers includes a sportsman, a radio announcer, a journalist, doctors, government officials and individuals who have conducted selfless acts in the aim of ending the AIDS epidemic.
Top 20 Ripplers
1. Faustine Luell 'Paji' Tupas Angeles (PLHIV, Youth): This 29-year-old sports enthusiast and social media influencer founded the Pedal for HIV in 2015 as a vehicle to spread awareness. Paji used his passion for sports to promote HIV advocacy and reduce stigma towards people living with HIV through cycling and running events.
2. Sherwin Baniqued (PLHIV, NGO, Youth): Sherwin is a selfless young individual who left his job to devote himself for the HIV advocacy. He established the Juan Posi+ive Movement in Pampanga, which caters to education, treatment, care and support to people living with HIV and their affected family members.
3. M.A. Buendia (Influencer, Media & Advertising): This BPO agent literally uses the airwaves to increase his listener's HIV awareness as he anchors the advocacy talk show, Call Center Radio that airs every Sunday morning on DZRJ 810AM. M.A. also takes advantage of the online platform (i.e., Youtube, Facebook and Twitter) to influence netizens about the HIV advocacy.
4. Ana Theresia "Risa" Hontiveros-Baraquel (Government): Senator Risa was responsible for major contributions in the passage of relevant laws in health and gender equality. Currently, the senator helped in authoring the Senate Bill 1390, which will improve access to HIV prevention services including sex education and HIV testing.
5. Billy Santo (Government): A survivor from AIDS complications, Billy devoted his time and effort as the National HIV Ambassador of the Project Red Ribbon. This young man works as a site implementation officer at the Bernardo social hygiene clinic in Quezon City.
6. Mark Joseph Mamplata (Influencer, Youth): He may hide his true identity behind his alter account on Twitter, but this social media influencer uses this platform to promote HIV awareness and encourage his followers to take an HIV test.
7. Tanya Laguing (NGO): Aside from being an HIV counsellor and peer educator, Tanya is currently the president of Decent Image of South Signal Association (DIOSSA). In its humble beginnings, Tanya's organization started by hosting gay beauty pageants that promoted HIV awareness and encouraged the elimination of discrimination among the members of the LGBT community.
8. Jebsen Rederri Go Gamido (PLHIV, NGO): A professor and breadwinner of his family, Jebsen, together with his 8 co-founding members, established in 2015 the Positibong Marino Philippines, Inc. (PMPI). As a network of PLHIV seafarers in the Philippines, PMPI endeavours to promote a coordinated and unified response and initiative on various advocacies for PLHIV seafarers, their affected families, and the maritime industry.
9. Gilbert Yang (Academe, Medical): Dr Yang is a dermatovenereologist who specializes in sexually transmitted infections, including HIV. He won the Dangal ng Bayan award of the Civil Service Commission in 1995 for his works in leprosy and infectious diseases. As a prominent member of different medical societies, Dr Yang has come up with an STI/HIV-AIDS modular training program to train doctors in this field.
10. David Lozada (Media & Advertising): David is considered a goliath in online journalism, enabling readers to know the stories of marginalized communities. As a Rappler correspondent, he gave light to the HIV epidemic in the Philippines through his writings. David is one of the proponents of the #StayNegatHIVe campaign that won several recognitions abroad.
11. Diday Alcudia (Media & Advertising): Diday is a strategic planning director for an advertising agency that formulated the #StayNegatHIVe campaign. Because of this campaign, HIV awareness efforts in the country was recognized internationally.
12. Enrique Tayag (Government): The spokesperson and dancing doctor of the Philippine Department of Health, OIC-Assistant Secretary Tayag is a public health expert, particularly on "epidemiology" that covers topics on sexually transmitted infections. He has been actively involved in developing policies and guidelines, setting standards for disease surveillance, and advocating disease prevention and control.
13. Donna Catherine Ortiz (Medical): Dr Donna Catherine Ortiz is the lead physician of The HIV-AIDS Core Team of Laguna Medical Center. She has been facilitating different healthcare seminars in different areas of Laguna.
14. Katerina 'Doc Kate' Leyritana (NGO, Medical): A physician for infectious diseases, Dr Kate is one of the founding Board Directors and the Medical Director of Sustained Health Initiatives of the Philippines, Inc. (SHIP), a one-stop shop alternative treatment option for people living with HIV (and other sexual health diseases).
15. Angelou Marie Estrella (Youth): Together with her university friends, Anjelou started Team Dugong Bughaw, a youth organization for HIV and AIDS awareness that aims to unite local universities/colleges for a stigma-free Iloilo City. In February 2017, Team Dugong Bughaw was awarded as one of the Ten Accomplished Youth Organizations of the Philippines.
16. Elena Felix (PLHIV): Being one of the organizers of the Association of Positive Women Advocates Inc., Elena mentors a new breed of leaders for women living with HIV. Part of her response to the epidemic is actively pushing for amendments in the AIDS Bill by collaborating with the Network to Stop AIDS Philippines. She gives a face to women living with HIV in the Philippines.
17. Roberto Figuracion (NGO): Robert is the HIV Coordinator of the Family Planning Organization of the Philippines-UNICEF in Iloilo, bringing the HIV advocacy to schools and communities within Region VI. The Family Planning Organization of the Philippines has 15 active organizational chapters with 17 community health care clinics nationwide, offering an integrated package of essential services on family planning and reproductive health.
18. Jhen Latorre (Influencer): Giving a voice to transgender males in the Philippines, Jhen is one of the founders of the Pioneer Filipino Transmen Movement. He fathered two kids and is a huge influence on various advocacies for the LGBTQI community, especially in his workplace.
19. Angelina 'Angie' Mead King (Business, Influencer): Angie is a philanthropist and the managing director of Victoria Court, a drive-in hotel that advocates HIV awareness. The hotel also hosted a series of community-based HIV screenings and partnered with leading HIV advocacy groups for their HIV campaigns. Angie also launched the website www.stophiv.info to further raise awareness and created youth engagement activities with a focus on HIV.
20. Conrad Oca (Business, NGO): Dr Oca is the President of the Associated Marine Officers' and Seamen's Union of the Philippines (AMOSUP), which endeavours to protect the rights and promote the welfare, health, and wellness of Filipino seafarers and their families. Dr. Oca, with the help of International Transport Workers Federation, addresses the growing numbers of HIV cases among seafarers by supporting Positibong Marino Philippines, Inc., in ensuring equal employment opportunities for PLHIV seafarers and raising awareness on HIV.
Judges of the Ripple Awards include a UNAIDS and a World Health Organization top officials.
The Ripplers are chosen based on their contributions to their respective sectors which largely help improve the landscape of the entire advocacy.
The first-ever Ripple Awards will take place during the Love Gala –Asia's Premier Charity and Awards event on 1 December 2017 at BGC Arts Center in Taguig City, Manila.
Last Updated on Oct 24, 2017
The news team for
Gay Nation
love tips from our readers. Got tips or a news story that you would like published?
Go here to tell us something.
Visit the Gay Nation store Now