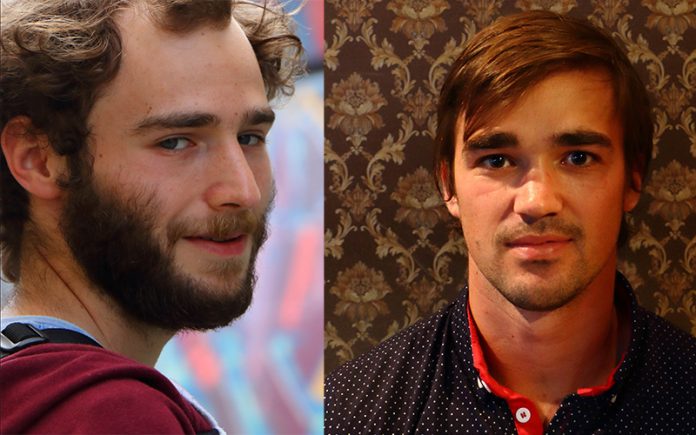 3
min read
The brand-new kiwi-made, Two Naked Gay Guys web series that follows the relationship between two guys after a casual hook-up closes its Kickstarter funding round on Tuesday.
Sitting at only 50% of the needed funds it's important for everyone to get behind this series now.
Eikon was lucky enough to chat with the two stars of the series Matthew Dussler and Riley Brophy about why they took part in the series and how it is planned to progress during the next few episodes.
Both of the lead stars are straight so the fact that the whole first episode basically has them naked in a bed together may have posed a problem for some actors but not for these two.
Brophy, 23, from Wellington who plays the role of Dean, said it wasn't really that difficult to get into bed with another man.
"Playing intimacy with anyone is going to be a little challenging," Brophy explained to eikon.
"It's weird to be in that place with someone you aren't actually in a relationship with, so it really comes down to making sure you're comfortable with that person.
"And I don't think that's tied to whether you share your character's sexuality or not.
"Conan (The Filmmaker) was really good about making sure we were comfortable the entire time. We did a lot of bonding stuff before the shoot, so when we came to filming it, we had already established that connection."
For Dussler, who plays the role of Lucas, it was all about getting into character and going with the flow.
"I thought it would be at first(tough playing a gay guy) but when it came to the audition, it wasn't a problem at all, I was just Lucas and Lucas wanted to kiss Dean and that's a totally natural thing for Lucas to do, so it felt natural to me too, playing that role."
"It was comfortable, there are worse places to perform!"
Brophy began his acting career at the young age of seven as his parents were in the industry while Dussler has been in the game seven years since finishing college.
"I'm a personal trainer, acting fits in really well as my schedule is very flexible," explained Dussler to eikon.
"I started drama school seven years ago, straight out of college. I received the audition notice and liked the idea of a challenge.
"The role appealed to me because of the challenge and the learning I could get from it."
For Brophy the moment when he knew he had the role was when they conducted chemistry tests in different pairs and Dussler and himself connected strongly.
"What attracted me to the role was the script.
"The piece we read for our audition was pretty much the opening scene, and I thought it was really funny and really sweet.
"I also really liked Dean as a character. He's a charming, relatable guy, and I knew I'd have fun playing him."
With seed funding from the Emerging Artists Trust the team behind Two Naked Gay Guys were able to shoot the first four episodes and fully produce episode one.
The $8500 they are asking through Kickstarter is the remainder they need to complete production of the three episodes they have already shot.
Dussler explained he is excited about continuing on the role of Lucas if the funding comes through.
"I can't wait to continue on this journey, I know there's a lot of Lucas to discover and I can't wait to see where the story takes us.
"Lucas is a guy who is not used to being tied down, we may find him venturing out of the bedroom!"
Brophy agrees but is not sure he can say too much about whether the characters will venture out of the bedroom anytime soon.
"I'm looking forward to seeing where the story goes."
"I don't want to give too much away, but I think Dean is going to grow into a more confident person over the show.
"Everyone has been really supportive. I imagine it's quite weird for people who know me, given that it's such an intimate scene, and I am pretty naked for most of it.
"I know that my parents haven't watched it yet for those reasons. But everyone I've talked to about it have said they really enjoyed it.
"The response has been really positive."
Pledge your support for Two Naked Gay Guys here!
Episode one is below
Last Updated on Apr 25, 2016
The news team for
Gay Nation
love tips from our readers. Got tips or a news story that you would like published?
Go here to tell us something.
Visit the Gay Nation store Now