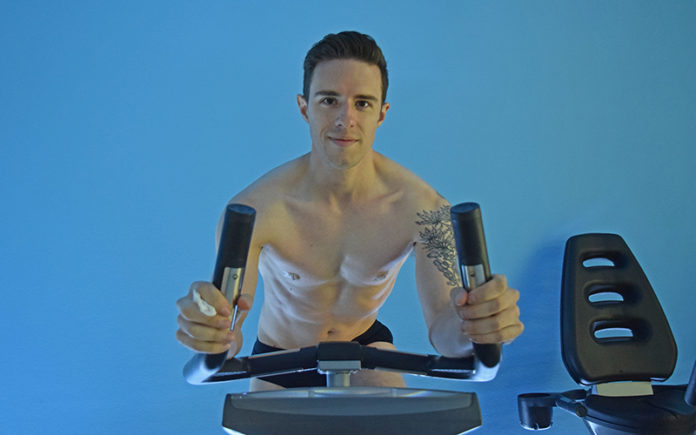 4
min read
I've never understood how (or why) professional athletes can put themselves through the experience of an ice bath. Don't get me wrong, I'm all for a team of rugby players taking a dip in an icy bath (which I will happily watch, for research of course), but to me it sounds like a form of punishment rather than a recovery session. But now, thanks to the folks at Gravity Cryo, it is possible to enjoy the many benefits of an ice bath without the ice – or the bath for that matter.
A relatively new health treatment, known as cryotherapy, exposes the body to extreme sub-zero temperatures to bring about a variety of regenerative and restorative results. It's quick, simple, and best of all, painless. In some ways it's like a reverse-sauna. To see if it was all too good to be true, I decided to check out Gravity Cryo's first Australian centre in inner Melbourne suburb of South Yarra.
Arriving at the ultra-modern facilities was like stepping into the not-too-distant future. I was greeted by the effervescent Nicel at reception and given my Cryo suit – which is actually everything but a suit – consisting of a robe, socks, mittens, ear muffs and shoes. I made my way to the change rooms and stripped down to my underwear, as instructed. This is the uniform for the Cryo chamber – the more skin you expose the greater the benefits, just like Mardi Gras, right? The final piece of the ensemble was a black face mask which gave me some real Mortal Kombat Sub-Zero vibes.
The technician, Andy, explained the process to me carefully: the first room I will enter is the pre-chamber which has been chilled to a frosty -60 degrees Celsius (-76 F). Sound cool? That is just the warm-up (so to speak) for the main Cryo chamber, which was a mere -116 C (-176.8 F) at the time. Andy tells me, "you're not in there for long – 2 minutes 45 seconds on the first visit – and the whole thing is controlled and monitored from the outside by me." At this point, I was honestly unsure what to expect, so I asked "what happens if I can't stay in for the full duration?" Andy reassured me that I can exit the chamber at any time but that I should be fine. He then proceeded to offer me tape to cover my nipples in case they got sore while in the chamber. Fearing frostbitten nipples, I feverishly put the tape in place.
The next part was the most crucial element to the success of my cryotherapy: song choice. I got to choose what song played while I'm standing (relatively still) inside the chamber. The song acts as both a distraction from the cold and a coping aid – having a countdown timer in the chamber would be excruciating, but if you're listening to a song you know well enough you can approximate how much longer there is to go. Unless you pick a total banger in which case you may not want to get out when the timer goes off! After deliberating for days leading up to my visit, I decided to go with 'Shine' by Years & Years, which was definitely within my comfort zone.
So after disrobing I stepped into the pre-chamber and was hit with a burst of cold air. Both rooms are cooled electrically, as opposed to using liquid nitrogen, and so the air is dry and not at all painful. After only a handful of seconds, the voice prompt instructs me to step inside the main chamber. Even after the brief acclimatisation in the pre-chamber, the temperature in the main Cryo chamber was a shock to the system. As much as I tried to keep my cool (pun: intended) in front of Andy who was watching from outside the chamber, my limbs began shaking involuntarily, and my breathing was arrhythmic. It felt like that initial shock you get after jumping into a cold pool, only much longer. But by focusing on the music, I was more or less able to block out the cold and before too long Andy was giving me the 10 second countdown signal.
Once the countdown was done, I stepped back into the pre-chamber, which now felt like a walk in the park, before exiting the Cryo chambers shrouded in billowing clouds of steam. When I had entered the pre-chamber at the beginning the surface temperature of my body was just over 35 C (95 F). After emerging from the chamber, it had dropped to 11C (51.8F). But I felt fine and I was alive – in fact, I felt invigorated! I imagine that when they eventually thaw out Walt Disney from his cryogenic chamber he'll be bouncing off the walls!
I warmed myself up with some light cycling on one of the bicycles available in the warm up area before changing out of my Cryo suit. I was told that I could look forward to a solid sleep that night, and trust me I did indeed sleep like a log! The other health benefits of cryotherapy (which you can read in more detail here) include reduced inflammation, improved brain and immune function, increased metabolism, antioxidant activation and production of collagen. Of course, as with most treatments, the more often you have them the greater the benefits. My challenge now is to do some light stretches in my next session.
So while I'm still cold on the idea of ice baths, I've definitely warmed to cryotherapy.
Last Updated on Mar 17, 2017
The news team for
Gay Nation
love tips from our readers. Got tips or a news story that you would like published?
Go here to tell us something.
Visit the Gay Nation store Now