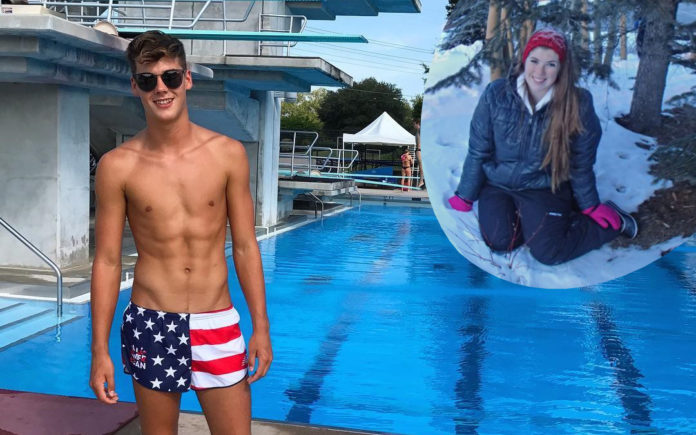 A real-life romantic comedy has played on a Florida State University SnapChat story on Thursday when an openly gay college diver and a female college student that he had never met set the internet alight with their Beyoncé Love Chase.
Canadian diver Aidan Faminoff is studying at Flordia State and in the school's SnapChat Story he posted a video of his "Beyoncé Hair" action and wrote "Feeling like Beyoncé in this wind."
A fellow female student Madeline Bryant sent a reply to the story, saying that she liked his hair and that "Beyoncé Boy" could contact her anytime he wanted to.
What ensued was a modern day romantic chase as Beyoncé Girl set out to find Beyoncé Boy on campus with very little luck.
"Hi there Beyoncé Boy it is I Beyoncé Girl, I think I missed you but I'm on my way," said Madeline after one of her attempts to track Aidan down.
"An update I think we are at the wrong place. Beyoncé Boy are you at the union."
Because the chase was playing out in real-time on the SnapChat Story, other Florida State students started to become involved leaving their own messages and became invested in making sure the two "Beyoncés" met.
"So whatever happened to Beyoncé Boy and Beyoncé Girl coz I'm living for this," said one student voyeur.
The moral of the story is that if you ever see an attractive person on your campus story, do a reply snap because you might make a new friend pic.twitter.com/knkprNvXPj

— Madeline "Beyoncé Girl" Bryant (@madelineisrad) January 30, 2018
Finally after the chase almost came to an end, Beyoncé Boy was back and mentioned he was off to get some food at the Stadium.
Thankfully a connection was made just in the nick of time much to the delight of followers not just across campus but across the world.
"OK, everyone. We finally met," smiled Beyoncé Boy as they both appear hugging in the SnapChat Story together.
But it was bad news for those who wished for them to end up happily ever after.
"I had to break the news to her," said Beyoncé Boy sadly.
"I like boys," as he tagged the snap with "One of us is straight and it ain't me"
Beyoncé Girl came back quickly with, "Yeah, we can still be friends"
The video has already been retweeted on Twitter thousands of times and USA TV Network ABC has featured the love chase on their morning news program.
Aidan made the news in 2017 by exploring is coming out story during a post on