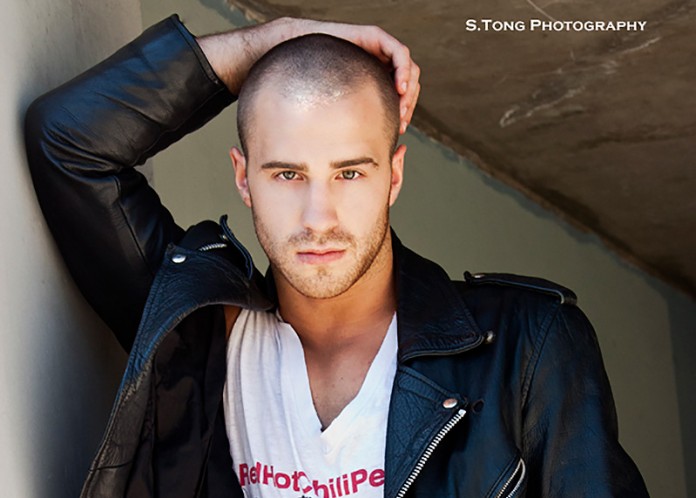 4
min read
At the ripe old age of 25, some would say Lockhart Brownlie has done it all, performed at the Super Bowl alongside Katy Perry, met President Obama and toured with the World Class Wicked Production, but this young man has burning ambition and is now looking for his next big momentum shift.
In a two-part feature, Lockhart or Locky as he prefers to be known, opens up to Eikon about his early years, family, love and motivation to see more young dancers follow in his footsteps.
Born and raised in Launceston Tasmania, Locky started dancing at an age before a lot of kids have even started walking.
"I started to dance around the house at age two. I would copy what my sisters did at their dance classes and competitions," Locky explained to Eikon.
"I would put music on and dance around the living room while mum would be cleaning."
At age four Locky officially started dance classes but it wasnt long before he had a larger goal in mind, that included leaving his island state for the big smoke.
"At a young age I became really interested in a dance school in Sydney, Brent Street Studios."
"I would dance against their students at competitions and I was in awe of their talents and routines.
"I tried to get my parents to send me over to Sydney when I was 14 and attend Brent Street's talent development high school. In my head this program was similar to what I had seen in the movie Fame, academic classes in the morning and dance all afternoon.
"That appealed to me as the perfect idea of school. Unfortunately my parents didn't allow me to move out of home at 14."
Along with dance movies, some of Locky's greatest inspirations came from early music videos where dance and choreography was always a huge part.
"My biggest inspirations were Britney, Janet, Christina and basically any artist that had dancers, cool music videos and dance moves I could watch and copy.
"I would religiously watch music videos from these artists, tour concerts and any special award shows they did.
"I didn't specifically know the dancers, I just knew they were amazing."
Eventually Locky convinced his parents he was old enough to move to Sydney on his own so he packed up his bags aged 16 and with his best friend Renee Ritchie found a home on the North Shore of Sydney and enrolled in his first Brent Street Course.
After catching the Sydney Harbour ferry to class every day for a year, it was two days after his graduation concert that Locky auditioned for a dance role that would take him in a direction away from his beloved commercial dancing and into the world of Broadway.
He secured his first major dance role in the ensemble of the first Australian Production of Wicked which opened in Melbourne in July 2008.
"It was amazing. It was the biggest musical to come to Australia since Phantom of the Opera.
"We had a stella cast and the buzz around the show was incredible.
"Working with the broadway creatives and seeing the show come to life was something I will never forget."
But there was a burning desire to do more.
"At this time I was still a little confused as to what i wanted to do.
"There were so many options in my head while I was at Brent Street. Did I want to do musical theatre?, did I want to be a commercial dancer? or did I want to study contemporary dance?
"This job was a massive learning curve and from doing this show I have made great friends and contacts in the industry, in Australia and here in America."
Performing with the likes of Rob Guest (deceased), Bert Newton and Amanda Harrison in Wicked, Locky knew this was an amazing springboard and after the first season was asked to re-sign for up to five years with the production. But he was getting itchy feet and needed change so against the thoughts of many of his colleagues he packed in his Wicked adventure.
"After 15 months, creatively I was becoming a little stale. I needed some change in my life, I was young and was wanting adventure.
"I think I was scared that I would get stuck doing this musical and in a few years look back and only have one show under my belt because I had stayed for that extra five years.
"I wasn't ready for that. I was 19."
"This was something that a lot of cast members in Wicked had a hard time understanding.
"Why would I leave theatre, that has a steady income and guaranteed work?
"I had a lot of people saying " are you sure you want to resign"? out of the whole cast there were only two people who didn't re sign their contracts."
Following the decision to leave Wicked Locky headed to Los Angeles for a well earned vacation with friends and a chance to re-set his life. Not knowing what was to come.
After chasing his dream from such a young age it's no wonder Locky was aiming high and he has some very encouraging words for any young dancers who have a similar goal.
"If you want to be a dancer and that is all you think about, you definitely have to give it a try."
"There is no better feeling than dancing and doing what you love and getting paid to do it.
But he suggests it is not as easy as it may look.
"You have to be thick skinned, you have to be a fighter and you have to really want it."
"It's also really good to know exactly where you fit into the industry.
"Look at some people that inspire you and follow the things they did to get where they are.
"I had a lot of inspirations when i was younger and a lot of idols i was trying to follow.
"Even when i got to America i made a conscious effort to look at the people who were working, and really looked at what they had done to get where they are now.
"You also have to be confident. Show off your talent."
Locky speaking in the Katy Perry – Part of Me – Feature Film
In part two of the Eikon feature next week on Lockhart Brownlie we go through his experiences on the road with Katy Perry. How did he end up on hit TV shows Glee and True Blood and what is his experience of being a openly gay male in the entertainment industry.
Last Updated on Apr 17, 2015
The news team for
Gay Nation
love tips from our readers. Got tips or a news story that you would like published?
Go here to tell us something.
Visit the Gay Nation store Now