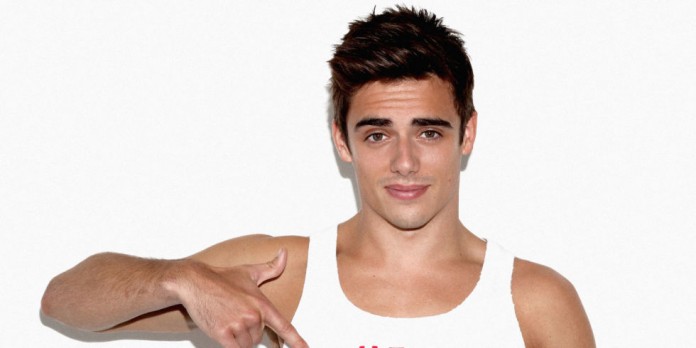 4
min read
His Mother died when he was two years of age, had his spleen removed after contracting a life-threatening virus when he was 16, has gone on to take a World Championship Bronze medal earlier this year and is a favourite to win gold in Brazil at next year's Olympics.
But it is "Brand Mears" that is getting all the attention as the 22-year-old diver has opened up about his friendship with Tom Daley and his huge gay fan base that has made him one of the world's biggest gay sex-symbols.
In an interview with The Daily Mail, Mears has admitted he loves the attention from his gay fans.
"I totally embrace it, I enjoy it. I might get a couple of jokes thrown at me but social media is part of what I do, it's my treasure because one day I want to use all that,' Mears explained to The Daily Mail.
But what makes this young Diver any different to the many others that have gone before him?
"I think guys love the Speedos.
"They absolutely love Tom Daley (his team-mate and good friend) and him coming out as gay brought a lot of that attention to it."
The rise of "Brand Chris Mears" began back at the London Olympics when Tom Daley (who had not yet come out as gay) started including Mears and diving partner Jack Laugher in many of his Instagram and Facebook posts. At the time, Tom was the poster boy for the sport and the Olympic games in general.
They also joined Tom and other Great Britain diving team members in a send-up of the LFMAO "Sexy and I know it" song which introduced Mears to the world outside of diving.
Laugher and Mears built their following from that moment with both now have Instagram followers north of 100k.
Since Daley came out the spotlight has turned more to these boys as the poster divers for girls and gays of the world.
Only this week both Mears and Laugher have been sharing posts across Instagram and Facebook from Queensland's Gold Coast as they participate in some intensive training leading into Rio 2016.
In 2014 Attitude magazine ranked Mears No. 7 on their Hot 100 list and a calendar he released earlier this month crashed his website three times. A lot of this is due to his worldwide gay fan base.
"My UK fanbase is 70 percent gay and the rest are teenage girls,' he said.
"I'm a bit of a thing in Mexico, too, but my fanbase there is 60 per cent girls and 40 percent guys."
In 2009, while in Australia at the Youth Olympics he contracted Epstein-Barr virus, which led to the rupture and removal of his spleen and he was given only a five per cent chance of survival. He pulled through but, after being discharged, had a seven-hour seizure, which resulted in a three-day coma and a month-long stay in the hospital.
"I'm not a lucky guy. My mates always say: "have you seen what's happened to Chris again?" That's me all over.
"My mum died when I was two years old and I think that's probably where I've gained a lot of my fighting spirit from.
"Even though I was too young to remember, it's something I still carry with me very closely.
"I always keep my chin up and that experience has made me stronger not weaker."
As Mears recovered from his illness he started dabbling in music and production.
"I had so much time on my hands," Mears explained to Billboard back in October.
"I bought a guitar and I started playing and picked things up really quickly."
He also got a Mac computer and dived into creating his own music.
"When I got a Mac, I was just opened up."
"I got [the music production app] Logic and I was just opened up to this whole world of being able to craft any sound.
I became obsessed with sound design and creating sounds from nothing. It's just been a massive interest of mine from really early on."
Interest in Mears and his music led to him releasing a commercial single ("Mexico," featuring Karl Michael) in Latin America through Universal Music earlier in 2015.
He's in talks to release further music with Universal after the Olympics, but as of yet, no deal has been signed.
His focus at the moment is firmly on the 2016 Games.
He has been able to find the time to do occasional DJ gigs, but those are few and far between, again, owed to his rigorous training and competition schedule. (It's a schedule that finds him training six days a week, from about 7 a.m. to 5 p.m.)
"Right now I can't do these things [live gigs] obviously because my aim and my life's dream as a kid was to be an Olympic medalist."
"So I'm still trying to make that dream come true. Doing a gig [that finishes] at 4 or 5 a.m. and then going to training is not very professional. Finding that balance is key."
For now all the music gigs, modelling and gay sex-symbol stuff needs to take a back seat as he heads into six months of crucial diving training in preparation for Olympic qualifying and the Games in Rio in August 2016.
For Mears and his diving partner and best friend Laugher, 2016 is theirs for the taking.
"We'll be at the Olympics as best mates and that's something no other partnership has."
The pair are working on a new dive which is unprecedented in synchro competition and Mears hopes it will lead to the ultimate glory in Rio next summer.
"We're keeping it a secret because nobody does this dive, it's going to be a world-changing thing.
"We know we can get a medal at the moment with our current list but we could actually out-dive the Russians and Chinese at their best with this new dive.
"The question is, do you play it safe or go all out to try and win?"
I think we can all see, Chris Mears will be going all out to win.
Last Updated on Dec 12, 2015
The news team for
Gay Nation
love tips from our readers. Got tips or a news story that you would like published?
Go here to tell us something.
Visit the Gay Nation store Now