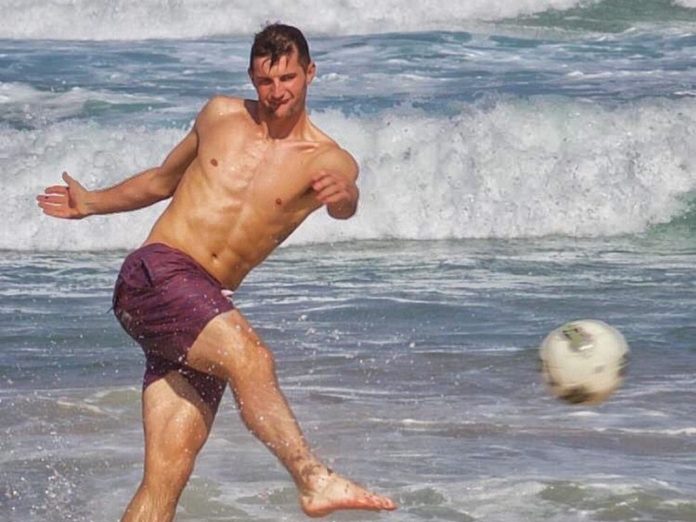 3
min read
Australia's first openly gay professional football player said the reaction has been 'amazing' after publicly coming out on social media and the media in May.
Andy Brennan the 26-year-old, Melbourne based forward, who plays for one of the largest clubs in Melbourne Green Gully, has spoken about the reaction to his coming out in an interview with FoxSports.
The former Newcastle Jets player said that in the last three months the reaction has been positive, so far.
"The reaction has been amazing," he said to FoxSports.
"Something that I didn't expect fully from everyone because it's something you worry about a lot and a lot.
"But it's been so positive and overwhelmingly positive from everyone — wider reaction and within the club, my friends, family — so I've not really had a comment or anything from anyone that's made me feel uncomfortable or upset."
Brennan made the announcement about being gay on an Instagram post saying, "It's taken me years to get comfortable saying this – I'm gay."
"I was scared it would affect my friendships, my teammates, and my family. But the support of the people around me has been so great and helped me get to the final step; being completely open."
"Being open is the best way for me to feel most comfortable and be myself. So… carry on!"
Brennan said he was worried about what the public would say but also how players would react to him on the pitch, but the support continued across the board.
"People just kept coming up even on the pitch or after the game, when we were playing and just said 'well done, it's amazing what you've done and not many people would do it so congratulations,'" Brennan tells foxsports.com.au.
"And nothing negative at all, all positive."
There are currently only two out male professional footballers currently playing across the world now that Brennan has come out. With Collin Martin who plays for the USL Championship club Hartford Athletic's being the only other out, male professional Footballer.
It has been rumoured for many years that there are a number of professional players in the English Premier League who are gay and ready to come out.
Even as the English Premier League kicked off weeks ago it was rumoured that some players were intending on coming out. But as yet no one has done so.
Coming out publicly allowed Brennan to tell his story the way he wanted it told.
"Well that was the thing. I know I told a lot of people that were close to me and stuff and I wanted to do that — the people that were very close I wanted to do obviously personally," Brennan explained to FoxSports.
"But then I didn't like the idea of leaving it like that — because you know how in sport everything spreads pretty quickly — I didn't like the idea that people might have the chance to tell other people my story and it get out that way.
"Which, I was always fine with it getting out after I started telling people but I wanted to be able to say the way it happened and how I felt and I wanted control over it.
"So by doing that publicly, it was me having control of it, me saying exactly what is happening and what has happened and no-one can speculate, no-one can do anything like that."
The news team for
Gay Nation
love tips from our readers. Got tips or a news story that you would like published?
Go here to tell us something.
Visit the Gay Nation store Now