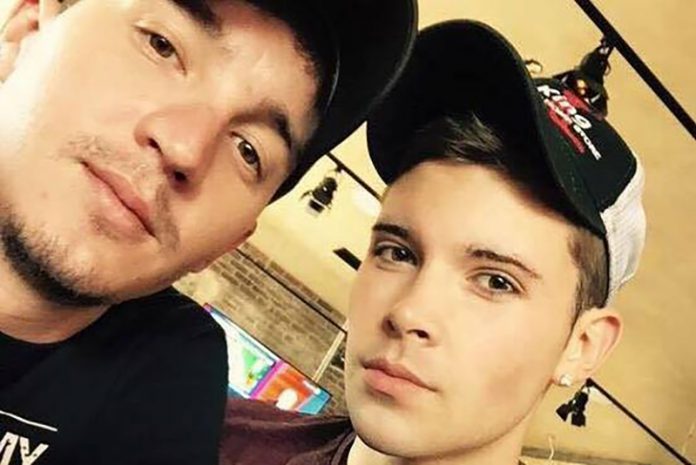 2
min read
A gay couple that was interviewed at a Donald Trump rally and claimed their support for the Republican candidate have been the subject of vile abuse and death threats in the week following the interview.
The abuse seemingly goes against everything the "gay community" stands for and has been exposed in an editorial by The Wall Street Journal's Jason Bellini.
Bellini was the journalist who originally posted the interview of Dewey Lainhart, 31 years old, and his fiance Cody Moore, 22 years old, at Trump rally in Cincinnati on October 13 and has since received more than 200,000 views.
In the video interview, Lainhart said he works in the steel industry and shares Trump's skepticism about multilateral trade deals.
"It's time for a change, and Trump's the man for it," he said.
Lainhart said he excuses Trump believing gay marriage should have been left to the states because his candidate now considers the issue settled by the Supreme Court's decision.
He said he doesn't like the record on gay issues of Trump's running mate, Mike Pence, the Indiana governor who signed a law allowing businesses to refuse to serve gays and lesbians.
"I'm not voting for the vice president. I'm voting for Trump," he said.
Since the interview was published the worst of the gay community has come out with a stream of hatred towards the couple on the facebook post itself and they have also received death threats from gay people warning them not to leave their house or go to any gay clubs.
One message to them, they say, told them to drink bleach.
The video and subsequent post didn't allude to their names or identities but a gay activist blog identified them and then linked to their individual facebook pages.
The two have received hundreds of hateful messages, including some threatening physical violence.
In the wake of the backlash, Lainhart said he has been vigilant and he carries a gun "because I love the Second Amendment."
One of the barbs that Lainhart said bothered him most was when he and his fiance were called "privileged white guys."
He said he works 40 to 80 hours a week in a blue-collar job to afford his home and his car.
"We're both two country folks."
Mr. Moore calls the gay community's reaction "extreme."
"The gay community is not a very supportive group," he said.
In reading through the comments it's not hard to see why many right-leaning gay people in the community keep their comments to themselves given the backlash that they would eventually receive.
There was one bright light amongst the comments from a resident of New Zealand, Andrew Stopps, who necessarily doesn't agree with their stand or their politics but would defend their right to speak their truth.
" I am a gay man and I find it the height of hypocrisy that members of the LGBT community hurl abuse at these two men," commented Stopps.
"We (LGBT) have had to endure emotional, psychological and sometimes physical violence in order to be true to ourselves publicly.
"These boys are being true to themselves by speaking politically and even though I personally do not agree with them, I will stand in front of them and risk violence myself in order to defend their right to speak their truth.
Stopps ended by saying, "Now grow up people and let these young men vote and support whoever they want."
The US Presidential Election will be held on Tuesday 8 November and eikon will be in New York City live on election day for all the reaction on the big day.
Last Updated on Oct 23, 2016
The news team for
Gay Nation
love tips from our readers. Got tips or a news story that you would like published?
Go here to tell us something.
Visit the Gay Nation store Now