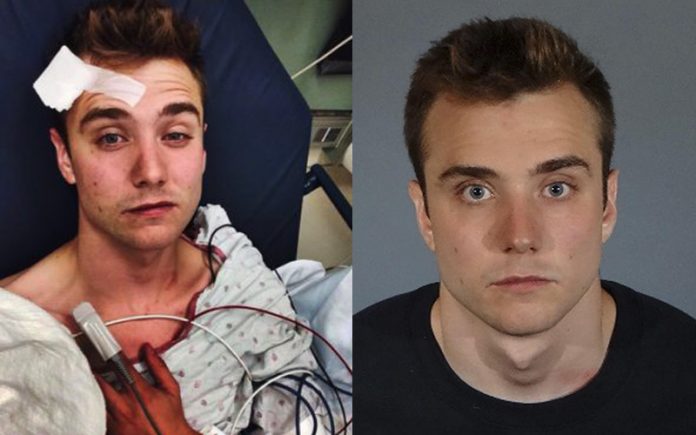 3
min read
Openly gay Youtuber Calum McSwiggan has been charged with filing a false police report after he claimed he was attacked by three men outside The Abbey nightclub in West Hollywood as part of a gay hate crime.
The Los Angeles County prosecutors allege the 26-year-old UK Youtube star lied to police early Monday morning that he was beaten.
McSwiggan appeared in Los Angeles County Superior Court on Wednesday and pleaded not guilty to the charge which has a maximum penalty of a year in jail if found guilty.
Earlier this week Eikon reported on the claims when McSwiggan posted a picture of himself on Instagram from a hospital bed with a bandage on his forehead claiming he received three broken teeth and six stitches on his forehead from the attack.
It has since come to light that the injuries were sustained in a West Hollywood police cell after the alleged attack and followed McSwiggan ripping the mirror off a car in a car park 200 metres from The Abbey.
The Sheriff's Department confirmed that deputies responded early Monday to McSwiggan's report of assault after leaving a West Hollywood nightclub. But deputies at the scene "were unable to substantiate the assault," according to a statement.
Deputies then placed McSwiggan, 26, under arrest about 2:30 a.m. Monday on suspicion of vandalism of a car along Santa Monica Boulevard near Robertson Boulevard, in the heart of the city's LGBT nightlife district, authorities said.
Once inside a solo jail cell, McSwiggan "was then observed injuring himself with the handle and receiver to a payphone," sheriff's officials said in a statement.
He was taken to the hospital for treatment. McSwiggan was released from custody just before 9:15 p.m. Monday with a citation to appear in court.
One of the three men that left the club with McSwiggan and who's friend's car was vandalised has spoken out on Facebook and on CBS New Los Angeles saying the attack was completely made up.
"It's all completely made up," said Damien Nichols. He said that he and his friends were with McSwiggan Monday morning.
He told CBS that McSwiggan was drunk and acting violently after leaving the bar and then scratched his friend's Lexus, ripped off a side view mirror, and even crumpled up the license plate.
"He destroyed someone else's car, and then he tells the police and tells the media that the person's car he destroyed is beating him up? Absurd," Nichols said.
Moreover, Nichols is also gay and was highly offended that after Orlando, that a gay man would make up a hate crime.
"It's inexcusable," Nichols said.
CBS news report below.
---
In a statement posted Wednesday to his Facebook page, McSwiggan provided more details about the alleged attack, saying that it occurred in a parking lot after he had left the Abbey. A man punched him, and he was later kicked; after regaining consciousness, he realized his teeth were broken.
"In a moment of devastation, anger, and blind rage, I kicked the wing mirror of the attacker's car until it broke and then ripped it off with my hands," McSwiggan wrote. He later returned to the Abbey, reunited with his friends and contacted police.
McSwiggan said he told deputies about the attack and acknowledged vandalizing the car.
A deputy told him that she did not believe his story of being attacked since he had no physical injuries on his face, he wrote.
"Just because there were no visible marks on my face does not mean I was not attacked," McSwiggan said.
Inside the jail cell, he wrote, he hit himself in order to be transferred to the hospital.
"It was the only solution I could find to get myself out of there," he wrote. "This is incredibly out of character for me and is testament to how upset I was in that moment."
McSwiggan's next court appearance is scheduled for July 19.
Last Updated on Jul 1, 2016
The news team for
Gay Nation
love tips from our readers. Got tips or a news story that you would like published?
Go here to tell us something.
Visit the Gay Nation store Now