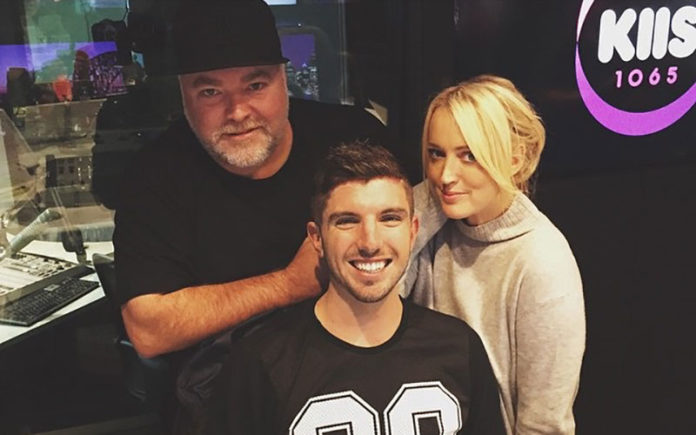 4
min read
He's read the news live on air naked at a busy Sydney intersection, been covered in insects and snakes on-air and had ex-boyfriends brought into the radio studio to dish dirt on what he's like as a lover, but Australia's most well known "gay newsreader" Brooklyn Ross wouldn't change a thing.
The lively newsreader on Sydney's top rating breakfast radio show, The Kyle & Jackie O Show, has always had a passion for radio but he has also never been one to hide his true self on air as Brooklyn explained in an exclusive interview with Eikon.
"I'm always conscious of being one voice of the LGBTI community, but I think the internet has really given everyone their own mouthpiece," Brooklyn explained to Eikon.
"Whether it's YouTube, Twitter or Instagram – there are so many opportunities for gay Australians to make their voice heard.
"We probably have more gay role models in the media than ever before, and any media organisations who aren't embracing that need to catch up."
Brooklyn volunteered as a DJ at his local community radio station when he was 15 and after completing a Journalism degree he went back to that same community station to do unpaid work during his university holidays. It was that experience that landed him his first job in radio.
As any journalist would know, sometimes it's not all jokes and shenanigans on air, and one event that sticks in Brookyln's is a car accident he covered where an 18-year-old P plater was killed on the NSW South Coast.
"His parents had no other children and they were left devastated. A few months later his mother was travelling to visit his grave and crashed and died in almost the same spot.
"The boy's widowed father then campaigned with our radio station to have the road repaired – which it eventually was.
"Journalists often get a bad rap, so it's incredible when you can help make an important difference to your community."
And community is one thing he loves about working with Kyle and Jackie O as they have supported the LGBTI community like no other. Kyle even recently nominated for an LGBTI Award for being a straight ally of the community.
"I think it's wonderful how Kyle and Jackie O have always embraced the LGBTI community, and been so very open about its existence.
"Gay people have dominated the media landscape for decades, but before the rise of shows like Kyle and Jackie O it was often kept quiet.
Kyle Sandilands defends gay marriage on air with Brooklyn in the background watching on.
---
"They hosted Australia's first "illegal gay wedding" in 2005 (and after 12 years it would still be illegal) so it's a privilege to be part of such a progressive show."
In fact, the "gay newsreader" at the time that was central to the illegal gay wedding Geoff Field and Brooklyn are great friends.
"I'm great friends with Geoff and he gave me some wonderful advice before stepping into his old shoes.
"He's also been a guest with Kyle and Jackie O whilst I've been on the show – so it's fantastic that the "gay newsreaders" can get along!"
After radio stints in regional NSW and Canberra Brooklyn's first metropolitan gig was as a sports reporter on Sydney's talk behemoth 2GB.
"I totally winged it! The last sport I played was Little Athletics in kindergarten – but the job was such a great opportunity I couldn't say no.
"I read as many sports almanacs as I could find and tried my hardest not to look like a phoney."
Brooklyn said he was an avid listener of the show and knew if he was to ever succeed in the industry that he needed to work with them.
Controversially he was swept into the Kyle and Jackie O newsreader's role at the start of 2015 after Krista Thomas was allegedly dumped because she was too opinionated.
Brooklyn admitted he was anxious about tackling one of radios biggest ever personalities in Kyle Sandilands.
"I've always listened to the show, so I must admit I was somewhat worried about Kyle. He demands perfection from the show team and isn't afraid to stop everything and point out any mistakes.
"It's why we all love him as listeners – but it's kinda frightening to step into such a high-pressure situation. My first day was filled with nerves, but three years later and I still haven't effed up too badly."
"I think the secret to Kyle and Jackie O's success is that they have no secrets. They share every embarrassing detail of their lives with their audience, and I try to do the same.
"You can't be too private when you spend four hours of each day chatting amongst friends – as the whole of Australia is listening.
"I've had to read the news naked from Sydney's busiest road, I've been covered with insects and snakes while on-air, and I've had ex-boyfriends brought into the studio to reveal what I'm really like. Now that was scary.
"Justin Bieber hosted an entire show with us from Sydney Harbour one morning which really tested my concentration on the news.
"To be honest, every day seems to bring something crazier to the show."
Brooklyn started and runs his own gay radio station, Gay Pop Radio. In the five years since debuting in early 2012, the streaming radio network has gone from strength to strength — today boasting localised stations for Australia, the United States and the United Kingdom.
The current marriage equality postal survey has also seen Brooklyn take a larger role in discussions in the KIIS FM show and on some occasions it has brought out the fire and passion over this issue.
"I think our focus in Australia right now must be to convince as many people as possible to actually vote in the postal survey, rather than trying to change the minds of "no" voters.
"We know that most people do support same-sex marriage and realise it won't be the end of civilisation, but convincing them to fill in a paper form and take it to a post box will be the toughest part.
"Many may assume there will be enough "yes" votes and that their opinion won't matter, but we must tell them that we need EVERY vote."
As a shining gay star in the world of Australian media, Brooklyn encourages any young aspiring gay journalist to follow their heart and just be honest with themselves.
"It's so rewarding in any aspect of life, to be honest with yourself and those around you – and career is no different.
"I've only ever experienced love and support from my media colleagues, and any negative feedback from listeners really has been minimal.
---
Brooklyn Ross can be heard weekdays between 6 am – 10 am on the Kyle and Jacki O show on KIIS FM106.5 or on the iHeart radio app.
Last Updated on Aug 25, 2018
The news team for
Gay Nation
love tips from our readers. Got tips or a news story that you would like published?
Go here to tell us something.
Visit the Gay Nation store Now