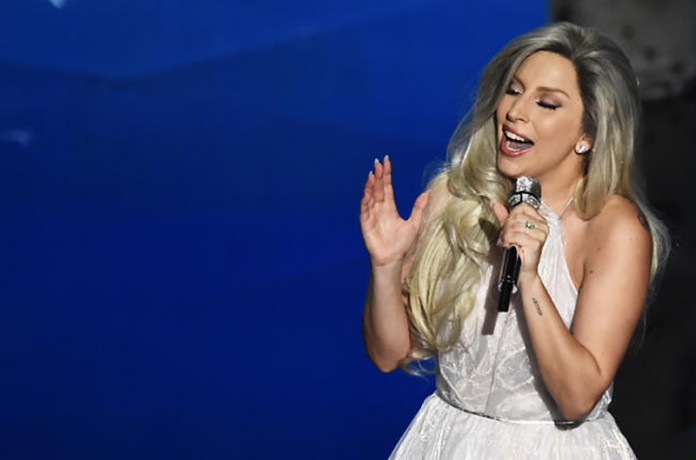 4
min read
Updated 24/2/15
The 87th Academy Awards were upstaged by a pop icon….. Lady Gaga. Yes that's right, Lady Gaga stole the show as she celebrated the 50th anniversary of The Sound of Music.
The "Bad Romance" singer ditched her usual elaborate theatrics for a pared-down tribute for which she hit all of the Julie Andrews's high notes. She was then joined on-stage by Andrews who thanked her by name.
We all knew Gaga could sing but this, almost operatic performance, may be the defining moment of her career.
The other standout moments were related to speeches. The first was when Best Supporting Actress winner Patricia Arquette spoke about women's rights and equality.
"We have fought for everybody else's equal rights. It's our time to have wage equality once and for all and women's right for everyone in America," she said, as Meryl Streep and everyone in the audience stood up and applauded.
Dana Perry spoke about suicide in her speech following her win for Documentary Short Subject.
"I lost my son. He was 15 when he killed himself and since that happened, what I said I think I said something like, we need to talk about suicide out loud to try to work against the stigma and silence around suicide because the best prevention for suicide is awareness and discussion and not trying sweep it under the rug," she said.
Finally, when Graham Moore won for his work on the screenplay for the "The Imitation Game," he gave the world an insight into his inspiration and motivation for the film.
"When I was 16 years old, I tried to kill myself. I felt weird and different and felt like I didn't belong. Now I'm standing here this is for any kid out there who doesn't feel like they belong, because you do," he said. "Stay weird, stay different."
Neil Patrick Harris was roundly criticised for his performance as host. One media outlet exclaimed 'Finally, something Neil Patrick Harris cant host'. Others just were bemused by the lack of comedy in his jokes and timing.
He seemed to lack the spark of other hosting gigs, maybe the job is just too big, maybe he was nobbled by producers who are a little more conservative than other award shows, maybe that's why no one really wants to host the oscars.
But the night belongs to the winners and here is a list of the major award winners.
Best Supporting Actor — JK Simmons, Whiplash
Best Supporting Actress — Patricia Arquette, Boyhood
Best Original Screenplay — Birdman
Best Director — Alejandro G Inarritu, Birdman
Best Actor — Eddie Redmayne,The Theory of Everything
Best Actress — Julianne Moore, Still Alice
Best Film — Birdman
The US Awards season culminates on Monday with the biggest show of them all, the Academy Awards.
The 87th Academy Awards will be coming in live from the Dolby Theatre in Hollywood and at this stage it looks all the favourites for the big awards will most likely succeed.
This will be host Neil Patrick Harris' first time leading the film industry's night of nights.
At just 41, Harris is an ­industry veteran (rising to fame in the early 90s as TV's teen doctor Doogie Howser MD), a bonafide Broadway star, an adept comic actor and a tried and tested MC, having hosted the Tony Awards four times before, to rave reviews.
His casting this year, is similar to that of Hugh ­Jackman in 2009 who was as at home on stage as on screen. His showstopping song-and-dance spectaculars at the Tonys have been his calling card; this year's Oscars ceremony may therefore be more musical than most, with Harris himself set to perform a new number by the songwriters of the Frozen hit Let It Go.
Yet he is not a wholly safe choice. Off screen Harris is the father of two children with his husband, the actor David Burtka. This makes him the first gay married man to host the Oscars at a time when same-sex ­marriage is still a contentious topic in the US.
In an interview last week with Jimmy Kimmel, Harris said the Oscars were difficult as it's the last awards show of the year so a lot of the material he was planning on using has been done on the Golden Globes or on talk-shows.
"You're the last hurdle in the awards show marathon. Its the crumbs in one way and its the wedding cake in other ways. I'm concerned and always pondering whats the right thing to do," he told Kimmel.
Of course, plenty of A-listers are expected to walk the red carpet and make their way into the Dolby Theatre. Many of them will end up on stage presenting awards such as Jennifer Aniston, Gwyneth Paltrow, Channing Tatum, John Travolta, Chris Evans, Nicole Kidman, Jared Leto, Meryl Streep, Oprah Winfrey and Reese Witherspoon.
There will also be performances from Lady Gaga, Jennifer Hudson, Anna Kendrick and Jack Black.
But in terms of the awards most pundits think the only major awards that are up for grabs are best Picture and Best Director.
While the best director Oscar usually goes to the same film that wins best picture, the awards have been split 23 times in Academy Awards history, including in each of the past two years. And it could happen again this year, with each category basically a two-film race between Birdman and Boyhood.
Boyhood was the 12 year long film directed by Richard Linklater while Birdman was the movie surrounding the attempt to create a broadway musical directed by Alejandro González Iñárritu
Only one of the four acting categories is even remotely competitive: lead actor, where Eddie Redmayne has a sizable lead with the experts over Birdman's Michael Keaton
The lead Actress award looks set to be handed to Julianne Moore in Still Alice, Supporting Actress award is a shoe-in for Boyhood mother played by Patricia Arquette and the Best Supporting Actor award looks primed for J.K. Simmons portrail in Whiplash.
Last Updated on Feb 28, 2015
The news team for
Gay Nation
love tips from our readers. Got tips or a news story that you would like published?
Go here to tell us something.
Visit the Gay Nation store Now