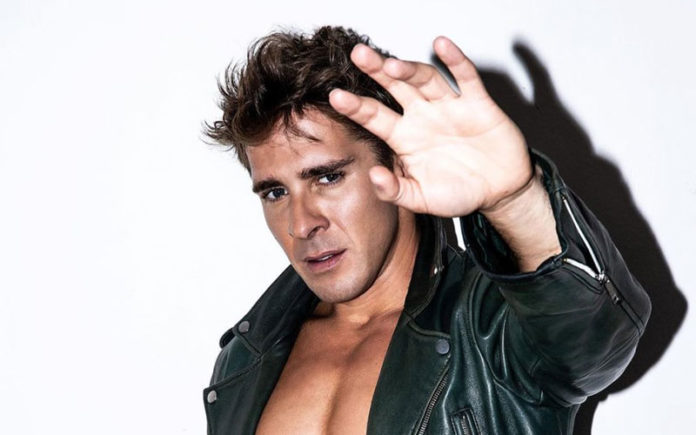 3
min read
In an extremely personal way, Australian actor/performer Hugh Sheridan has openly discussed his sexuality and the fact he has been with women and men, in a magazine opinion piece today.
Writing the personal essay for News Corp's Stellar Magazine, Sheridan opened up about his depression, his relationships with women and being told to hide his feelings for men because "women wouldn't want to pay to see a movie or TV show if they knew they couldn't have sex with the leading man".
He especially talks about labels, those that community decides we should be given and how he has never felt like he fitted into any of them.
"Every day it seems there are new labels popping up to identify those around us," Sheridan wrote in Stellar.
"I still can't find one that fits me."
Sheridan feels loving someone romantically can take so many different forms.
"I love people who inspire me. Not all love is sexual, and I don't think people always understand that. The fact is, I love many different people for many different reasons.
"As I get to know someone romantically, I'm not interested in their age, gender, sexuality, or religion. I'm interested in connecting on a human level. Sexuality has always been very secondary to me.
"In a way, I now feel very blessed."
He had been told by so many people in the industry after moving to Sydney for the National Institute of Dramatic Arts (NIDA) that if he had a boyfriend then he needed to keep it hidden as no one would who employ him if he wasn't straight. Surprisingly the advice came from two openly gay mentors.
"They were earnestly trying to protect me and did indeed have my best interests at heart. That was just the reality," Sheridan explained.
View this post on Instagram
Sheridan shot to fame at age 22 as the dreamy Ben Rafter in what would become one of Australia's highest rating drama shows ever. He was the misfit son who fell in love with the beautiful girl next door only to have his life shattered by her dying in a car crash.
It was during the Rafter years, where his star shone brightest that he felt his private life needed to be hidden even further, and his relationship with the media developed something of respect and confusion as they tried to work out who the real Hugh Sheridan was.
"Despite those first few years in the public eye being full of moments of great confusion and depression, we got through it. Eventually, I earned mutual respect and confusion from the media. I thank them for that now."
As you might recall, Sheridan was vocal in 2017 in the Australian marriage equality debate but as he suggests he could only support it from a moral viewpoint rather than a personal position. His relationships became more precious.
"It's hard for others to empathise with what it feels like to play "the boy next door" but not always feel like him.
"If you don't say anything, people always assume on your behalf – they never say "maybe that's private"."
Sheridan, like so many, is still figuring it out and still working out where he fits in the world, like so many of us.
In a follow-up interview in Stellar, he was asked what he was coming out as, he replied in the only way he knows too, at the moment.
"As a human being. People will read this and say, "He's not coming out. He's bisexual. He's asexual. Or non-binary. Or queer. Or fluid".
"There are all these words that didn't exist when I was younger and maybe if they had, they would have helped.
"But the fact that these labels keep popping up indicate there must be a lot more people out there who feel how I feel – like the words still don't fit. Maybe this is also my way of letting people know that I'm still single, and everyone is on the smorgasbord [laughs]."
Last Updated on Oct 18, 2020
The news team for
Gay Nation
love tips from our readers. Got tips or a news story that you would like published?
Go here to tell us something.
Visit the Gay Nation store Now