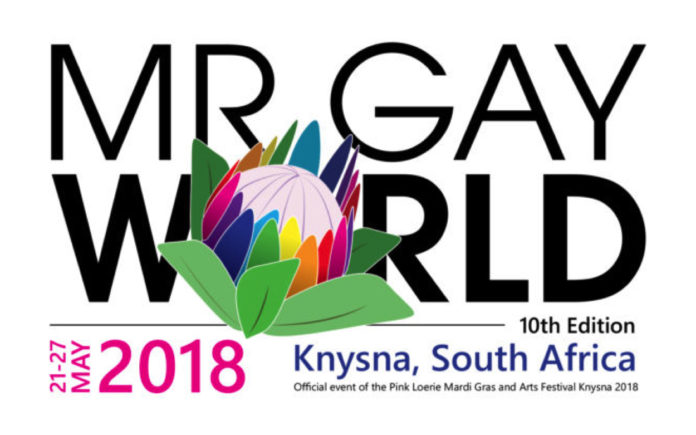 3
min read
Details on the 10th annual Mr. Gay World Competition have been announced with South Africa securing the rights to host its third competition.
The Pink Loerie Mardi Gras and Arts Festival has been announced to host the 10th edition of the Mr. Gay World competition in Knysna in May 2018, marking the third time that South Africa has presented the prestigious event.
The 2018 competition which will also be the second time that the contest will be held during the Pink Loerie, Africa's biggest LGBTIQ+ cultural festival, with the 2015 competition being jointly held in Cape Town and Knysna.
Eric Butter, President of Mr. Gay World, revealed that three other cities had expressed interest in hosting the next Mr. Gay World, but "when the Pink Loerie Mardi Gras and Arts Festival Knysna 2018 came forward I couldn't have been more overjoyed."
Butter explained "The 10th Mr. Gay World marks a milestone and is very important for our organisation. We have worked with the team in South Africa twice and it has always been a great pleasure; they have the very best work ethic and they always deliver a world-class event."
Butter added, "We also decided on South Africa because we wanted the international community to support the rebuilding of Knysna after the devastating fires in June by incorporating it with the Pink Loerie Mardi Gras and Arts Festival Knysna 2018."
Since the blazes ravaged the region, the Pink Loerie organisers have played an active role in raising funds, sourcing material assistance and bringing awareness about the crisis in order to bolster the local community.
This was acknowledged by the Executive Mayor of Knysna, Eleanore Bouw-Spies, who thanked the festival for its efforts. She and the Knysna Municipality also enthusiastically welcomed the town's hosting of Mr. Gay World 2018 as a further boost to its recovery.
"I do not hesitate in throwing my support behind this initiative and categorically state this event carries my full endorsement," said Bouw-Spies.
"With the added benefit of hosting Mr. Gay World, the 2018 Pink Loerie will, without a doubt, lure more visitors to our legendary LGBTIQ+ festival and beautiful area."
Bouw-Spies continued, "Greater Knysna will receive much-needed national and international exposure, proving to the world that we are most definitely 'open for business' despite the terrible tragedy of the recent fires."
Similarly to New Zealand who is yet to host a Mr. Gay Wolrd, South Africa has a proud history with Mr. Gay World, winning the title twice in 2010 and in 2011.
Mr. Gay World 2018 will run from Sunday, 20 May to Sunday, 27 May, with the grand finale taking place on Saturday, 26 May 2018 at Villa Castollini in Knysna. Tickets will go on sale from 1 February 2018.
The Pink Loerie Mardi Gras and Arts Festival 2018 Knysna will be held from Thursday, 24 May to Sunday, 27 May 2018.
About Mr. Gay World
Mr. Gay World is an annual global competition to find a spokesperson who best represents the finest qualities of the gay community and embodies the spirit of his nation. It is also an international platform where gay men from across the world come together to share their stories. The title holder not only carries the inner qualities of confidence, self-assurance, charisma and natural leadership but also takes pride and care in his outward appearance. The 10th edition of Mr. Gay World takes place in Knysna, South Africa from 20 to 27 May 2018. The 2018 contest's logo was adapted by Samara Reyneke and Tony Ferreira.
About Pink Loerie
The Pink Loerie Mardi Gras and Arts Festival is an annual celebration of lesbian, gay, bisexual, transgender, intersex and queer (LGBTIQ+) culture and identity and takes place in the picturesque Western Cape town of Knysna. Now in its 18th year, the festival hosts a series of cultural, entertainment and community fundraising events that celebrate and empower the LGBTIQ+ community and the region. The 2018 event will run from 24 to 27 May.
Applications to register for Mr. Gay Pride Australia have now closed, however, individuals hoping to represent New Zealand, or another Oceania Nation can do so by following this link.
Applicants aiming to represent the United States can register their interest by following this link.
*Applicants for Mr. Gay New Zealand, Mr. Gay Pride USA, or any other Oceania nation are required to be at least 18 years of age at the time of registration.
Last Updated on Jan 3, 2018
The news team for
Gay Nation
love tips from our readers. Got tips or a news story that you would like published?
Go here to tell us something.
Visit the Gay Nation store Now