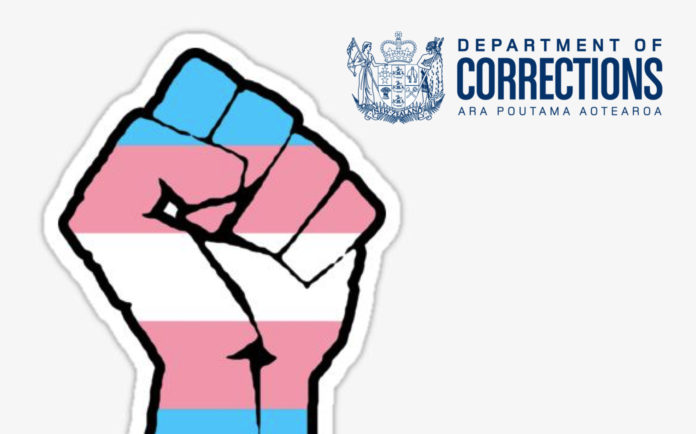 6
min read
Over the past few years, I have seen a fraction occur in our LGBT community over the issue of Pride Parades and the inclusion of the Department of Corrections.
Recently the Auckland and Wellington Pride boards chose to not accept the Corrections departments bid to march in the annual pride parade stating that "organisations that seek to take part in the Parade must be able to demonstrate that they are supportive of their rainbow staff, clients, stakeholders and all who are associated with them." Corrections "is unique in that the criteria not only apply to staff but also those under its care, including those in prisons."
Auckland Pride Board highlighted that "the department's policy regarding transgender prisoners does not adequately reflect the expectation that transgender prisoners should be treated with dignity. Nor does the policy adequately acknowledge prisoners' gender identification"
While Wellington Pride Board took a more casual approach stating that "public consultation and staff training are still needed before these changes are fully implemented. We encourage conversations to continue to take place between the Department of Corrections and the LGBTIQ community"
Corrections responded with how disappointed they were not being able to march in the parade and were just thankful to be considered and how they plan to improve the care of transgender prisoners.
This debate has caused a great response from the public, some agreeing with the board's decision but the majority taking to the news in a negative light and attacking the board's decision on social media.
One user commented "I'm disappointed too, when will the Pride Board take on people who stand up to No Pride in Prisons bullying stand over tactics"
Another user commented "This is why we can't have nice things – Shame on the Pride Board. One step forward, two steps back."
Emilie Rākete national spokesperson for the group No Pride in Prisons responded "No Pride in Prisons was not involved in Wellington Pride's decision not to allow Corrections to march. Our organising is presently focused on direct, material victories against the system of mass incarceration in Aotearoa, not on symbolic ones. We celebrate Wellington Pride's recognition of the racist, transphobic violence of prisons, but we had nothing to do with them making it. As last year's Torture Reports revealed, nobody can in good conscience support Corrections and the inhuman torture it is inflicting on prisoners. Wellington Pride simply read the writing on the wall."
This shows that our community is not well informed about the discrimination of our Transgender community, that goes on behind the scenes within the corrections facilities.
A report crafted by the Equal Justice Project which is run and led by students from the University of Auckland Faculty of Law highlights the injustice and discrimination enforced upon the transgender community within the Prison system.
The report "concludes that the current policies of the New Zealand Department of Corrections are discriminatory and places transgender prisoners at risk of sexual assault and rape." (Equal Justice Project, 2013)
It goes on to further highlight a report conducted by the Office of the Ombudsman which "recorded a health centre manager explicitly stating that the "abuse (of transgender prisoners) goes unrecorded in male prisons"" (Wakem & McGee, 2012)
The Minister of Corrections 2011-2014 Anne Tolley stated "there are only five transgender prisoners out of the 8,500 prisoners in New Zealand" (Equal Justice Project, 2013) HOWEVER In 2008, The human rights commission "obtained information from the Department of Corrections that there might be between ten and twenty prisoners at any given time…the department further believed that all were women incarcerated in men's prisons" (Equal Justice Project, 2013).
The report goes on to talk about how the department of corrections policies "are contrary to New Zealand's domestic and international human rights obligations. In particular, the policies to protect a person's right to be free from discrimination and right not to be subjected to cruel, degrading, or disproportionately severe treatment or punishment." (Equal Justice Project, 2013)
Transgender people are often referred to as having gender dysphoria which is a legal medical term. However, "it is the only medical condition where the Department of Corrections denies affected prisoners access to surgery and medical treatment once imprisoned." (Equal Justice Project, 2013)
This notion goes against the Corrections Act 2004 which explicitly states "the standard of health care that is available to prisoners must be reasonably equivalent to the standard of health care available to the public." Meaning transgender prisoners should be able to have access to surgery and medical treatment that meet their specific medical needs.
The department justifies housing transgender prisoners according to their assigned sex at birth despite the increased risk of violence and sexual assault through the use of "protective" measures. This often results in segregation and isolation from the main population for their own safety. This could be easily fixed by placing transgender prisoners in the correct prison, to begin with.
The use of segregation and isolation "deprives transgender prisoners of access to social human interaction, effectively punishing transgender prisoners for being victims of an attack. Segregated prisoners are also denied access to rehabilitation programs, which may prolong their availability for parole and again punishes victims for the wrongful actions of other prisoners." (Equal Justice Project, 2013)
Equal Justice Project highlights that "the right of all persons not to be subjected to cruel, degrading, or disproportionately severe treatment or punishment is protected in section 9 of the NZBORA; the right of prisoners to be treated with humanity and respect for their inherent dignity is protect in section 23. These rights are also protected in articles 7 and 10 of the ICCPR, article 5 of the UDHR, and the United Nations Convention against Torture and Other Cruel, Inhumane or Degrading Treatment or Punishment – to all which New Zealand is a signatory."
The report highlights that prisoners subjected to isolation and segregation are more likely to "self-mutilate and attempt or commit suicide at higher rates than those in the general prison population."
An example of this can be exemplified by the four No Pride in Prison members who occupied the Hamilton Department of Corrections office protesting the rights of a transgender prisoner in Springhill Correctional Facility who was forced in solitary confinement for a month.
"This woman is being held against her will. She's in an all-male prison and staff have told her that it's for her own safety but it's doing more harm than good." (Laumasse, 2016)
"The main issue is that she was put into solitary for her safety because of being harassed. But the problem is that she's so isolated from other prisoners it's a serious threat to her safety."
"She's feeling extremely isolated – her mental health has deteriorated. She's had times when she hasn't been out of her cell for a whole weekend, so it's not just 24 hours. She spent an entire weekend in her cell, completely cut off from everyone else."
"She's not allowed to mingle, she's let out by herself, no contact with anyone other than the guards."
"She has been harassed in the past, but instead of dealing with the alleged perpetrators, they've kind of effectively put her in a punishment cell. It's an incredibility backwards way of dealing with a problem" (Laumasse, 2016)
Corrections spoke out saying "It's not that this transgender prisoner is subjected to solitary confinement…she is on a regime of protective directed segregation for her own safety."
"she is receiving all her minimum entitlements and on most days, has more than this. She is also allowed to make telephone calls to approved numbers. She is currently able to spend an hour on the phone each day, which is significantly more than most prisoners. She is entitled to receive visitors, and interacts with staff." (Corrections NZ, 2016)
However, on approaching No Pride in Prisons with this response Emilie Rākete stated "this is absolutely untrue. Corrections claim that their protective isolation units are not solitary confinement, however, this prisoner was kept in her cell for at least 21 hours per day. When she was allowed out of her cell, it was to go alone to a caged enclosure outside. She was banned from using the phone for speaking to a journalist, so she could not speak with her advocates during this time except for when we drove down to visit her. Corrections even attempted to stop these visits and banned one of her two approved visitors, a ban which was later overturned by the Inspectorate of Corrections. The conditions she was held in were solitary confinement in everything but name. Her only visitors were No Pride in Prisons advocates."
The department's policies clearly disregard the safety and dignity of transgender prisoners by allowing them to be vulnerable targets to assault and restricting their expression of gender. For transgender prisoners, prison is a "locale of discrimination and mistreatment" (Equal Justice Project, 2013).
So, to those who were outraged by the fact that the Corrections Department was unable to march in the pride parade, I believe it is important for you to realise that these decisions to not allow corrections to march was not taken lightly and the Auckland Pride Board has been working for months with corrections to work through their policies. However, because the corrections could not show any improvements, the Board were forced to support their agreement and not allow them to march. As Lesbian, Gay, Bisexual and Transgender people of New Zealand, we should work together to eliminate all discrimination towards our community.
I do not support an organisation that consistently discriminates against our gender diverse community. I believe that we need to take into consideration the work the corrections department promises to fix but never does. We need to take a stand as a community and focus on the issues that are hidden, issues that need to be brought to the table and discussed. It's time we stand up to injustice.
Last Updated on Mar 10, 2017
The news team for
Gay Nation
love tips from our readers. Got tips or a news story that you would like published?
Go here to tell us something.
Visit the Gay Nation store Now