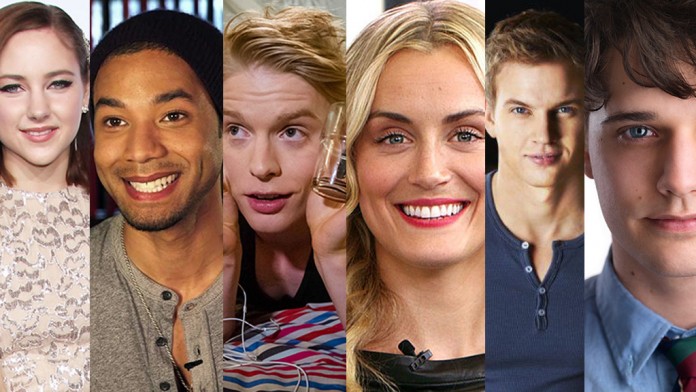 4
min read
LGBT characters on television are nothing new and thankfully most major shows have seen the light and not only include gay character story-lines but are building stories that represent gays having normal lives and showing the sexuality part almost as an after thought.
In America the GLAAD organisation have released the second annual report entitles "Where We Are On TV", which is a "character count and analysis" of scripted LGBT characters for the 2014-2015 US season. That report found a slight surge in LGBT representation on TV, with 32 out of 813 primetime broadcast scripted series regulars identifying as LGBT. That's up from 3.3 percent in 2013 but still down from a record high of 4.4 percent in 2012.
We could go on for days about past tv gay characaters, but instead we have pulled out seven of the best at the moment. Now this list isnt everyone, but just the ones we could fit in.
7. Jussie Smollett (Jamal) – Empire
One of the breakout stars of 2015 has to be Jussie Smollett and his character Jamal Lyon in the big US rating Empire which aired on Australia's Channel Ten and is soon to be seen on TVNZ in New Zealand. During the first series Jamal, the son of Lucious Lyon (Terrence Howard) a hip hop legend, comes out while singing one of his father's famous songs. In real life Jussie recently confirmed he was gay on the Ellen show.
6.  Haley Ramm (Brenna) – Chasing Life
The US ABC Family series Chasing Life has yielded some of the most unique representation of LGBT teens on television this season. From a girl who doesn't like labels and wants to date a certain boy and girl at the same time, to a 16-year-old out and proud lesbian who loves pink and tennis and smiling, it's been breaking molds and stereotypes at every turn. Haley Ramm plays Brenna who is not afraid to show love for whomever she wants at the time. All this while her sister goes through the process of fighting cancer. The series can be found on Netflix and is well worth a look.
5. Freddie Fox (Freddie) – Cucumber & Banana
Two of the stand-out LGBT shows of the year and one of the stars that makes the Manchester based productions so raw. Freddie Fox plays the character Freddie Baxter, a twenty-something "twink" who deals with bi-sexuality, older men, family issues in an incredibly powerful and at times confronting performance. Russell T. Davies, who penned the original British incarnation of "Queer as Folk," has created the two interwoven drama series, which aim to "explore 21st century gay life in all its powerful, witty, dark and uplifting guises through the lens of two disparate generations."
4. Jonathan Groff (Patrick) – Looking
Obviously Looking is full of gay characters so we could have chosen any one of them but seeing as its now heading for its finally (as a feature episode) we thought the lead character Patrick, played by Jonathan Groff deserved the mention. In the end he got his man and then let him go, then got him again or did he? Another of those true, real-life gay shows that maybe no one watches because its actually too close to real life.
3.  Taylor Schilling (Piper) – Orange is the New Black
A stand out show of last year and continuing this year across Netflix and other networks, Piper Chapman is a bisexual woman (and eventual inmate), she is engaged to Larry Bloom, has a lesbian past with Alex Vause and Schilling has been nominated for numerous awards in both comedy and drama categories for this role. Orange is the New Black continues to go from strength to strength.
2. Marshall Williams (Spencer) – Glee
OK….. yes Glee is over and it was also full of gay characters of one dimension or another, but we couldn't put this list together without mentioning the last major gay character of the series Spencer Porter who was the football jock turned glee singer. Actor Marshall Williams played the hunky Spencer who was surely the only gay character on Glee to not thrust it down our throats nor pretend there's anything abnormal about his life.
1. Andy Mientus (Hartley Rathaway) – The Flash
Hartley, otherwise known as The Pied Piper, is a recurring character on The Flash played by Broadway regular and former Smash star Andy Mientus. A former employee of S.T.A.R. Labs, he was fired by Harrison Wells for trying to stop the activation of the Particle accelerator. After surviving the S.T.A.R. Labs particle accelerator explosion. Hartley gained the power of superhuman hearing. It allows him to hear far better than a normal human. Hartley possesses a pair of gloves that are able to emit sonic vibrations, at their lowest frequencies they can shatter glass and at their highest frequencies they could bring down an entire office building. Not a lot is made of his sexuality in the show, but superstar gay producer Greg Berlanti is sure to include him in many more episodes down the track.
Last Updated on May 15, 2015
The news team for
Gay Nation
love tips from our readers. Got tips or a news story that you would like published?
Go here to tell us something.
Visit the Gay Nation store Now