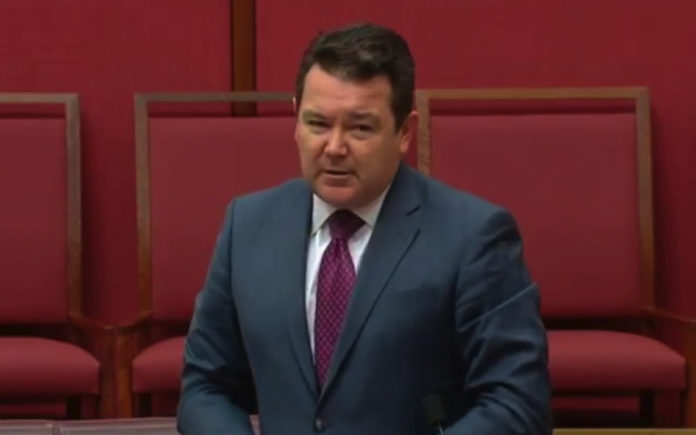 Annually Eikon looks back at the year to find out who made the biggest impact on our readers.
We call it Eikon's 12 Gays of Christmas, where we find 12 newsmakers that have played a big part in our world across 2017.
Today, we highlight an unlikely hero stemming from the recent Australian parliament's move to pass same-sex marriage.
Dean Smith, a backbencher from Western Australia, became the face of the Government's same-sex marriage push when he became involved with the Senate's committee a year ago and then worked behind the scenes to get legislation ready for the parliament, that would, in the end, bring about a change in the law.
Smith, along with a long list of cross-party co-sponsors of the bill, Senators Reynolds, Wong, Pratt, Di Natale, Rice, Kakoschke-Moore, Hinch and Hume together with Warren Entsch, Tim Wilson, Trent Zimmerman and Trevor Evans all from his own party, pushed things along all year until the postal survey was held, a result known and a successful parliament vote counted.
Dean Smith's speech to the Senate well received #auspol #SSM 📷by @CooperJed pic.twitter.com/YFn1acHK2t

— ABC Politics (@politicsabc) November 15, 2017
In his final speech to The Senate, Smith said "I never believed the day would come … when my relationship would be judged by my country to be as meaningful and valued as any other," Smith said.
"The Australian people have proven me wrong."
"Don't underestimate our country's sense of fairness, its sense of decency — and its willingness to be a country 'for all of us'," he told parliament.
"Not only does our country live these values, it votes for them as well."
.@pflagperth has been supporting the #LGBTI community, their families and friends for almost 30 years, and were active in campaigning for #marriageequality. I had the pleasure of catching up with members of PFLAG Perth to reflect on the last few months and to say thank you. pic.twitter.com/y9d23Bb2PZ

— Dean Smith (@DeanSmithWA) December 11, 2017