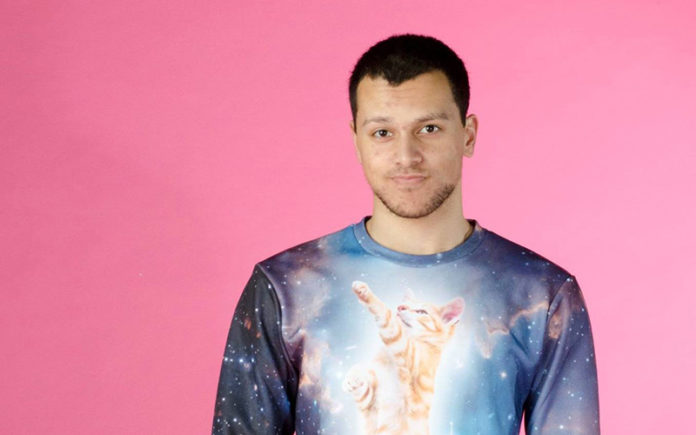 3
min read
The former Mr. Gay Wellington Alexander Kachfi has heaped praise on the rejuvenated Mr. Gay New Zealand competition for changing the way it is judged and encouraging everyone to have a voice and feel free to be involved.
In a wide-ranging interview, Alexander opened up about competitions, racism and the camaraderie amongst the 2017 finalists.
The 23-year-old Wellington resident moved to New Zealand from Manchester in England in 2009. In 2013 he was crowned Mr. Gay Wellington but at the time, the Mr. Gay New Zealand competition was far different, centred on Auckland and based on an individual's looks.
"Now the competition has evolved and opened up opportunities for individuals of all different fields to educate and talk freely about what issues they see. are important and the work they have done for the community," said Alexander to eikon.
"It's no longer just a contest of who's pretty on the outside, it's a competition of who's beautiful on the inside and wants to express their ideas to help better our community and country."
Before Alexander made the decision to enter the competition he spoke with the current Mr. Gay New Zealand Bernie Lee about the reasons for entering and what he could expect.
"The aim is not to lose sight of why I'm entering the competition and to have fun with it.
"I know why I'm entering and the competition isn't about who's issues are more important to bring up, it's about highlighting the variety of different issues in our community and being able to find someone who will be able to fight all these issues at once."
Alexander has very strong points to make about racism in the community which he wrote about in his opinion piece last week.
He speaks from personal experience and wants to be Mr. Gay New Zealand so he can work on campaigns highlighting the discrimination in the gay and wider communities and putting a stop to it.
"Whether it be racism, issues with sexuality, transphobia, HIV statuses or bullying in schools, workplaces or public, I want to assist individuals going through these problems and show them that they're not alone.
"I know it sounds crazy and I'm only one man but I've been battling demons my whole life whether it comes to racism, bullying or my sexuality and I know how painful it is to have to put up with this.
"There are those out there who don't know that support groups and peers are there looking out for them and when they think there's no-one out to support them, it leads to horrible outcomes that we as a country need to prevent.
"I want to be a Mr. Gay New Zealand who people can look up to, I don't want to be seen for my looks or my fashion, I want to be seen for my heart."
As well as his own issues, Alexander believes that whoever wins should take on all of the finalists causes and make sure they are not forgotten once the competition is over.
"Each contestant brings a unique and important issue into the spotlight and I want to make sure I work with each contestant to make sure all of these items are looked at and worked on.
"It's 2017 and even though there are a lot of confusing events happening in the world right now, my goal is to make sure New Zealand and its rainbow community becomes that beacon of hope that can inspire and influence other countries, it may sound cheesy, but I wouldn't be running for Mr. Gay New Zealand if I didn't believe it was possible."
And when asked about the chances of another finalist winning and taking on the challenge, Alexander is very supportive of everyone involved.
"Honestly I think they are all wonderful, I know competitions can sometimes bring the worst out of people but I didn't even know the majority of the contestants until the competition and now I feel like I've known them for years.
"Everyone is super supportive of each other and what is fantastic is because we are all sharing our articles and encouraging people to vote for us, there are those on Facebook who feel the need to put down the other contestants in support of their friends.
"However as soon as any of us are made aware of those comments made by others, we instantly take action and explain what the point of this competition is and look out for the other contestants. It's pretty great and I'm very happy with the group of finalists."
Alexander believes Adrian should win the competition if the judges don't choose himself.
"He brings something new to the Mr. Gay New Zealand competition. There has yet to be a trans man win Mr. Gay New Zealand and they would be breaking barriers and helping all trans-gendered individuals around New Zealand by taking on the role.
"Adrian is definitely an inspiration for a lot of people to look up to."
The final of Mr. Gay New Zealand 2017 will be held at the Ending HIV Big Gay Out on Sunday 12 February. You can still vote for your favourite finalist here.
Last Updated on Feb 8, 2017
The news team for
Gay Nation
love tips from our readers. Got tips or a news story that you would like published?
Go here to tell us something.
Visit the Gay Nation store Now