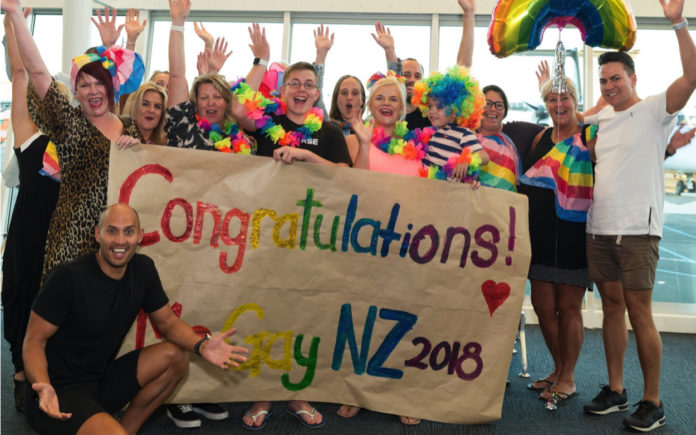 3
min read
It has taken me a day or two to 'come down' from the euphoria of winning the title of Mr. Gay New Zealand 2018. I am still smiling but I doubt that will ever leave. There are feelings of pride, achievement and most of the humble feeling of knowing people believed and supported me which I can only describe as a feeling of love.
The decision to enter Mr. Gay New Zealand this year was based on absolute love for my LGBTQI+ community.
I entered because I come from a place of recognition for the reasons why we are here today, namely those that have paved the freedoms we have in today's society and I want to continue that passion for people being treated fairly.
My husband was the kickstart for me to enter the competition, planting the seed, an idea, we prepared goals, and he has corrected my course at each wrong turn.
They say that behind every Jay-Z is a Beyoncé. Arthur Devine White is my Queen B. Thanks you for your relentless encouragement, for challenging me to be a better leader, and for loving me every day.
It's tough putting yourself forward to be judged by your peers, community and role models, and it came with plenty of nerves, but my journey was not a solitary one, with 6 other leaders making it into the finals for this year's competition.
From bringing awareness and raising their voices on youth suicide to body shaming, fighting for gender identity, acceptance to removing expectations and stereotypes, it is clear that all of the finalists who already do so much for our community will continue to do just that.
They stand for and deliver on different platforms but all within the same train station.
Thank you, Jake, Mike, Daniel, Vincent, Cody, and Will for sharing this experience with me. From the moment we met, you were all friendly, confident, and very articulate for your causes. I implore you to keep believing, keep fighting and keep opening your hearts to new experiences.
To my runner-up Mike Bryant. I felt the most comfortable around you. You have an ability to relate to people, communicate and empathize which all comes with maturity and life. I am so proud of you for the hurdles you've overcome to be who you are today. Should I fall over, I wholeheartedly know that "you've got this!."
During the finale, my last question to answer was around what perceptions of the community had changed. I have never felt so much community spirit in my life. Like many others, I have struggled, but to feel like I belong in this community today makes the struggle seem easier. I also have never experienced a community willing to rally together to support such great reasons for being. To me, that's incredible!
Thank you to everyone that voted online, I also want to thank everyone that sent either myself or the other contestants message of encouragement and love, and give appreciation to the people who read, understood and supported our opinions and beliefs for this community.
We need you to help put those into action now – a minority with the loudest voice will always be heard! We don't just fight for Gay rights, we fight for the rights of all, to be treated equally – as humans!
I made special mention of my mother on the finale night also but amongst the excitement, I didn't get everything I wanted to say exactly right.
Mum, you have taught me how to love through giving me and my sisters the best kind of love, unconditional. You have taught me how to share empathy and compassion through all of your work with children and youth. You have never expected me to be anything but myself and encouraged me to be the best that I can be, at anything I set my heart to. Which is why I am successful today, aiming to put my best foot forward for every opportunity.
To the judges who set the bar very high, encouraging us to reach and exceed our own personal standards, goals, and expectations. Thank you to Matt Fistonich, Tony Richens, Bernard Lee, Charlie Treadwell, David Francis, Aziz Al Sa'afin, and Aaron Chisholm, for having faith in me as the new Mr. Gay New Zealand 2018.
I believe the competition is one that everybody should consider entering because it awards recognition for community contribution, leadership, mana, and having a vision and a future for all NZ LGBTQI+.
So where to from here…? I want us to start with celebrating the amazing pride festivals across Aotearoa, beginning in Auckland, then to Wellington, and finally Christchurch.
This is our chance to smile-out-loud, be joyous, and showcase our wonderful community to the rest of New Zealand. We welcome all to join in, you must encourage your families and friends to participate. Let's dance and give thanks to the wonderful country that is New Zealand and more importantly the colourful communities that make it fabulous.
---
Mr. Gay New Zealand 2018 – Ricky Devine-White will represent New Zealand at Mr. Gay World 2018 in South Africa from the 21st of May 2018.
Mr. Gay New Zealand 2018 is proudly supported by eikonline.com, SKYCITY Auckland, Ending HIV, SsangYong NZ, LDV NZ, and StartOut.
You can see more on Mr. Gay New Zealand and Mr. Gay World right here on eikonline.com
Last Updated on Feb 14, 2018
The news team for
Gay Nation
love tips from our readers. Got tips or a news story that you would like published?
Go here to tell us something.
Visit the Gay Nation store Now