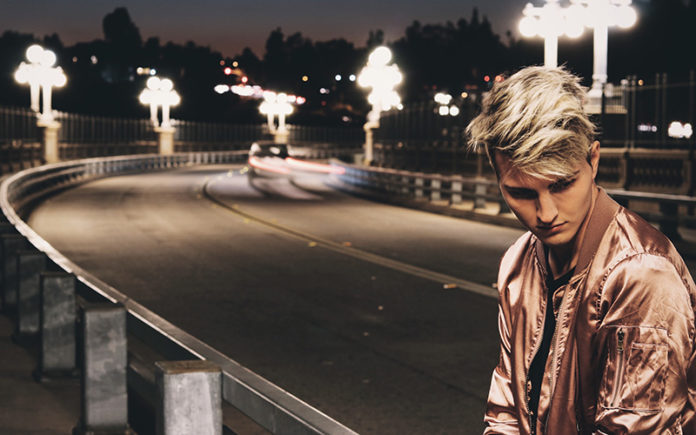 3
min read
The first EP for up and coming independent artist Drew Patrick was released today and has immediately started charting around the world.
The EP, Barely Legal, had already made the Top 50 in American iTunes pre-sales, but just hours after the release had shot to 34 on the pop album charts.
For the 19-year-old, this is an incredible progression of his music career which has taken many turns from an accomplished theatre performer, actor to now a mainstream recording artist.
Speaking with eikon, Drew explained that Barely Legal is a concept record with something for every type of music lover.
"There are dark and dangerous songs that run like emotional rollercoasters, and songs begging for forgiveness that are just simplistically beautiful," said Drew speaking with eikon.
"If I were a song, I definitely would not be a generic pop song.
"I saw "Barely Legal" as an opportunity to reintroduce myself and make a record infused with pure authenticity.
"Ultimately, I hope that when people hear this record, they can look at me and genuinely understand."
In an interview with eikon back in November, Drew explained how at the age of 16 he told his mom he was pansexual.
"She was very loving and supportive, so I am very fortunate to have received that level of positivity in my life," Drew explained.
"To me, sexuality is just another characteristic of one's self- like having blond hair or being tall.
"I kind of defy the popular gravity that is taking pride in the labels that society gives to individuals in order to place them in categorized boxes."
For Drew, the record means a lot more than just laying down tracks. When writing the concept for the title track "Barely Legal", at 18, he had the desire to push boundary's and explore his inner self, just like in his own life.
"I had somehow developed this taste for adrenaline, even if it was driven by pure recklessness."
"From experimenting with my sexuality and trying to figure out who I was… The concept of "Barely Legal" was a song that I knew would push boundaries in my personal and professional life, and it was a risk I wanted to take.
"The song "Barely Legal" is meant to be chaotic, it's about being young and recklessly in love with the false reality people create when they're in love with an abusive person."
The EP has five tracks, including a stripped back version of Drew's first single released in 2015, Generate a Spark.
The most commercial of the tracks is "White Roses" which instantly grabs your attention, imagining hearing this song on radio stations everywhere.
"White Roses is a pop anthem that every top 40 listener will love," Drew continued.
"It is definitely the most "mainstream" song on the record, but still remains close to my overall vibe and sound.
"White roses are symbolic for new beginnings, and that can be interpreted in so many different ways by so many different people in so many different circumstances.
"I have been using a white rose to kind of "symbolize" this record because, in more ways than one, the record symbolizes a new beginning for me. I am not holding anything back anymore."
And there is one track that affects Drew every time he hears it or talks about it, "Always", and its raw emotion comes through from the start of the song.
"This is the song that makes me cry every time I listen to it.
"It is so beyond personal, and I always get emotional talking about it… that's why it's called "always".
"I only say the word once in the song, but the feeling and power behind the word translates the overall message and purpose of the song better than anything else I would have come up with."
For someone so young, this American has a handle on his life and his career, and whatever comes of this EP, an album, music videos and creating things that he wants to do, will always be at the top of his list.
"I am putting all of myself out there, and people can either love me or hate me.
"But for once in my life, I feel proud and I am not ashamed of who I am.
"I would be beyond grateful for the success that any song on this record could bring to me because that would mean people are hearing and believing in what I have to say."
---
Barely Legal is now available to download on iTunes here and can also be streamed via Spotify here.
Last Updated on Feb 4, 2017
The news team for
Gay Nation
love tips from our readers. Got tips or a news story that you would like published?
Go here to tell us something.
Visit the Gay Nation store Now