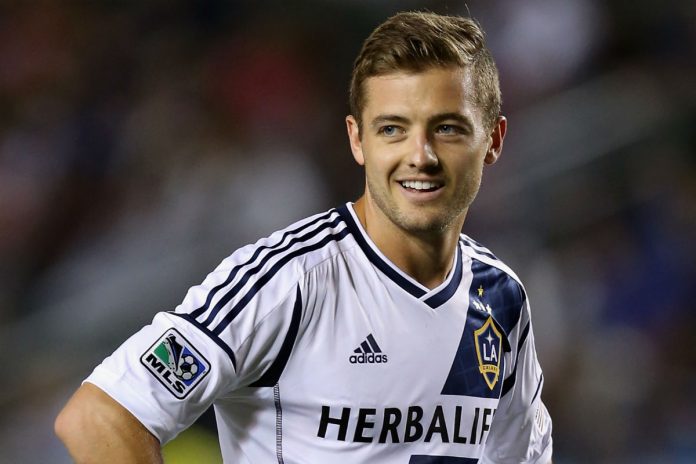 3
min read
A former Premier League Footballer has been suspended for two games after he called openly gay footballer Robbie Rogers "queer" repeatedly in a US Soccer League match on the weekend.
Richard Chaplow, who played for Burnley, West Brom and Southampton teams in the UK, was suspended for two games and fined an undisclosed amount after what is termed "offensive and abusive language" towards Rogers in a game between Chaplow's Orange County Blues and LA Galaxy.
The suspension was handed down after a three-day investigation which began on Sunday after Rogers made a post about the abuse on his Facebook page.
In the post, Rogers, who came out as gay in in 2013, explained how angry he was at the time of the incident but kept his calm and left the field without reacting. He didn't mention the name of the player.
"In the heat of the last fifteen minutes of the game a player from the opposing team called me a "queer" repeatedly," Rogers posted to Facebook.
"To be honest my initial reaction was one of shock. This is my fourth season back in the MLS and I've yet to hear another player use that or any other gay slur during a game.
"I quickly became enraged, I spent the drive home wishing I had channeled my inner Zidane and punched or head-butted this player even though I knew punching this person wouldn't have helped either of us, my team, or the greater cause of advancing equality in sports."
Rogers continued, "I went to bed upset last night. Angry at this player and and his ignorance. Angry at myself for not doing more in the moment. Sad the we still live in a time where this kind of intolerance still exists in my sport and elsewhere.
"And if I'm being honest, I was even a bit ashamed that a single word could make me feel, even just for a moment, all the awful feelings I felt for so many years: small, less than, wrong, and unworthy of love and respect by my family or god forbid by my teammates.
Rogers mentioned how thankful he was that many on his team and the opposing team apologized for what had been said.
"I'm thankful for the many players on my team and even the opposing one who apologized to me for one man's actions. Today, I woke up grateful to work in organization filled with so many players and coaches who have worked hard to practice tolerance of everyone and to help change a culture."
United States Soccer League boss Jake Edwards the sport does not condone any such abuse.
"The USL has zero tolerance for this type of behavior," said USL president Jake Edwards.
"We cannot, nor will we, condone any language that is counter to the values we have instilled throughout the USL."
The footage from the match revealed that the incident reached a boiling point in the 82nd minute when Chaplow fouled Rogers.
Rogers remained on the ground for a few seconds before confronting Chaplow.
Chaplow was subbed out of the match minutes later.
In an interview with The Telegraph, Chaplow insisted he did not direct any kind of homophobic slur at Rogers.
"At no point in the statement is a homophobic slur made reference to, and the simple reason for this is it didn't happen," Chaplow told The Telegraph.
"I swore several times at Rogers for overreacting to a foul, but at no time was the language homophobic and no evidence has been found of this, hence the way the statement has been wrote.
"I feel it's important that people realise what the ban is for.
"I have a close family member that is openly part of LGBT community so to suggest I'm homophobic is ridiculous and there is no evidence to support this."
A USL league source confirmed that its investigation couldn't corroborate Rogers' allegations and that Chaplow was suspended for swearing at Rogers.
The source added that the referee's report made no mention of the incident involving Rogers and Chaplow and that he didn't hear what was alleged.
That lack of confirmation is why the league — which received criticism on social media over the perceived lightness of the ban — decided not to hand out a heavier sanction.
Last Updated on Aug 26, 2016
The news team for
Gay Nation
love tips from our readers. Got tips or a news story that you would like published?
Go here to tell us something.
Visit the Gay Nation store Now