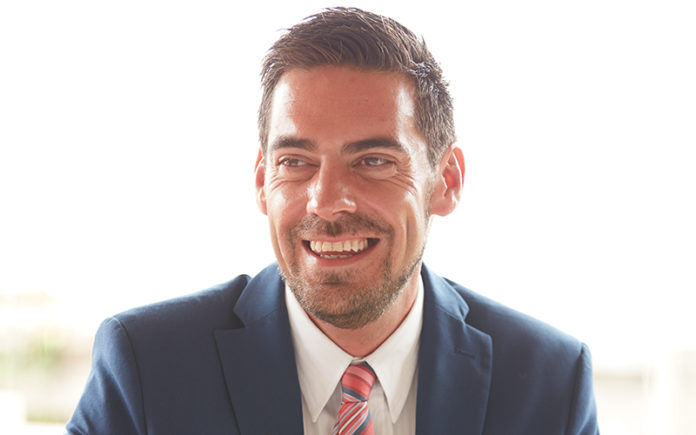 3
min read
As one of the most experienced finalists from the 2017 Mr. Gay New Zealand competition, James Bennett knows the struggles and hardships the community has been through and is still dealing with today.
The 33-year-old has lived in many different cities and countries around the world and has given countless hours to supporting the LGBT community including in his current business with Rainbow Pages New Zealand.
"I've worked with the Rainbow Community both as a volunteer and paid employment for the last 20 years starting with groups like Rainbow Labour, United Nations Youth Association," James explained to eikon.
"I have lobbied in parliament for Civil Unions and Prostitution Law reform worked in Australia with Mardi Gras and many community groups.
"A stand out for me was being a part of launching the Ending HIV campaign in NSW and more recently working for and interacting with Auckland Pride Festival, Outline, Body Positive, Rainbow Youth and my new business Rainbow Pages which is a world first – a platform that promotes Rainbow Friendly Business back to the LGBTTQI+ community with our give back programme of 10% of revenue each month to community organisations."
And in that time James has seen a lot of change, even yesterday with the announcement from the New Zealand Government about quashing previous homosexual convictions, the situation continues to change and improve.
"We have come a long way with legislative changes over the decades highlighted by the Homosexual Law Reform, Civil Unions and Marriage Equality, Prostitution Law Reform."
"Organisations like the Rainbow Tick in NZ give large business the tools they need to support diversity within their working environment, however, we can't be complacent and further change needs to happen.
One thing that has changed and James thinks for the better is how the Mr. Gay New Zealand competition is being run.
"I applaud the organisers for running a competition that is socially responsible so that our Mr. Gay NZ can go onto the world stage and advocate for the things that truly count."
"We are a progressive country well ahead of the rest when it comes to the equality and rights of the LGBTTQI+ communities, however we still have a long way to go, it excites me to be nominated by respected leaders in our communities that they have faith in me to represent them and take forth their opinions of change to an international forum, where networking there will ensure our voice is heard and our support is offered."
James passionately believes in many issues across the spectrum such as equality, humans rights and advocating for harm minimising drugs such as PrEP, but amongst all of that, Jame believes we need to also work on our relationships and how we treat each other even within our umbrella of Rainbow Communities.
"We face enough criticism and disrespect from those who don't identify as part of the Rainbow Community so why do we judge each other – even with the 'G' Gay community there are factions; Bears, Twinks, Jocks, activists and sometimes as a group we are nasty to each other."
"It only takes a look or a comment to hurt another's feelings, I'd encourage you all to stop that crap and respect each other, we may choose to be Hairy or Hairless, walk around in leather or Drag we are all part of the same extended family so love your brother or sister and neighbour and encourage them to be and appear as they are."
James has many friends within the local gay community and in particular a number of former Mr. Gay New Zealand winners who have encouraged him to compete.
"It's been lovely to have the endorsement of many previous Mr. Gay NZ's from as long as 20 years ago."
"They usually say to me 'James you know our community, you have drunk with us, cried with us… donated your time and money to help us and lobbied for important political change both in NZ and Australia we support you and are happy to continue that support through the campaign', which is humbling for me.
As much as this role would be a great reward for James' years of service, he is also excited by his fellow finalists and will support anyone who takes home the title on Sunday at the Ending HIV Big Gay Out.
"I guess being one of the oldest in the team I'd encourage all to be doing this for the right reasons, the role of Mr. Gay NZ is important and does give a voice for progress and change, it's not a popularity contest and I challenge the others to think about and have a clear understanding that you're in this for the right reasons."
"I don't believe it's a one issue only role, I believe we need a Mr. Gay NZ that has life experience and the ability to advocate for all issues by taking the time to research, understand and work with other members of our communities to best advocate and showcase to NZ and the world during their time as Mr. Gay NZ.
"I'm happy to help and support the winner in this role regardless of my personal outcome."
The final of Mr. Gay New Zealand 2017 will be held at the Ending HIV Big Gay Out on Sunday 12 February. You can still vote for your favourite finalist here.
Last Updated on Mar 7, 2017
The news team for
Gay Nation
love tips from our readers. Got tips or a news story that you would like published?
Go here to tell us something.
Visit the Gay Nation store Now