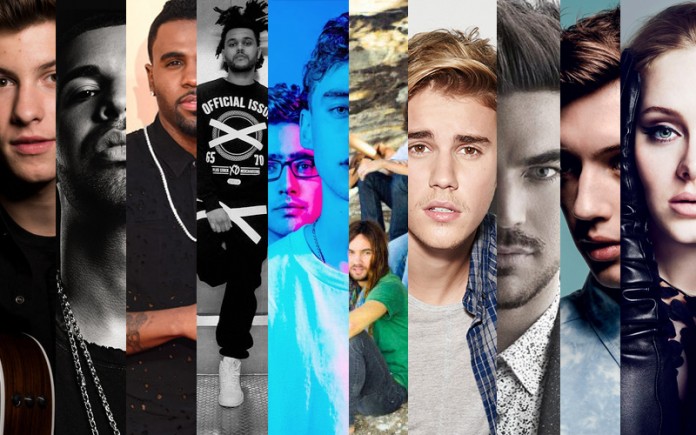 4
min read
Some would say 2015 has been a break-out year for music, particularly pop music, with the world seemingly almost as one with releases via itunes and, spotify happening worldwide almost instantly. These days the biggest stars pop up all across the globe only days after releasing music.
While composing our Top songs of 2015 the Eikon music experts were conscious with any list there is always going to be personal opinion and disagreement but we knew that such a year needed to be covered by one of our Eikonic lists. So here for your enjoyment, discussion and debate are the Eikon Top 10 songs of 2015.
10. Shawn Mendes – Stitches
If this was the Top 10 cutest guys of music then Shawn Mendes would win the title hands down. But in the end, as cute as the 17-year-old Canadian is, his music stands out above many this year.
His back catalogue is just as good as the mainstream breakthrough single 'Stitches' which hit Top 10 across the globe and in most countries he ranked in the Top 5.
His looks and charisma are what sets him apart from a lot of young Canadian singers (no names mentioned) and with the singing ability we are sure to see heaps more from Mendes in years to come.
9. Jason Derulo – Want to want me
If nothing else, the lead single from Jason Derulo's Everything Is 4 was the most joy-filled trip to erotic city taken by pop in 2015. After his obligatory self-identification (this time, whispered so quickly that it sounded like a sharp intake of breath), Derulo launches into a falsetto-heavy breakdown of how he handles insomnia over a skipping-stone synth beat that lightly recalls Blondie's strutting "Heart Of Glass."
Only instead of that song's slightly bitter look back, Derulo is looking forward—to a tryst, of course. The listener has to fill in the details of what happens after his paramour answers the door "wearing nothing but a smile," but the joyous nature of Derulo's whoops and the bubbly pop surrounding them hints at it being a smashing success. A Top 5 in both Australia and New Zealand (We actually love him secretly) surely had to give him a spot in our Top 10.
8. Drake – Hotline Bling
If drunk-texting your ex after stalking his or her Instagram had an official theme song, this would be it. The Toronto rapper's fizzy hit arrived too late to be the year's song of the summer, but thanks to covers by everyone from Justin Bieber to Sufjan Stevens, it may come to define 2015 nonetheless—and perhaps this election cycle too.
The song's meme-ready video was spoofed by Donald Trump on Saturday Night Live and inspired a fake Bernie Sanders parody from Ellen Degeneres. If that's not a sign of pop's ability to unite the masses, what is?
7. Years & Years – King
The British trio's electro-pop stunner topped charts in several European countries and made Top 10 in Australia but barely cracked the U.S. Top 40. That's America's loss: "King" is as compulsively danceable as any '90s house anthem, and frontman Olly Alexander's bewitching voice puts plenty of heart behind an arsenal of turbo-charged synths.
As he sings of breaking free from a partner's spell, you might just fall under his. If you missed this one, take a listen now.
6. Troye Sivan – Wild
Our experts battled about Troye Sivans and his long list of songs that he dropped this year. The battle was not neccessarily whether they should make it or not but which one was his best.
His first mini album in 2015 was the 'Wild' EP. The trilogy of songs from that EP then they were added to his Blue Neighbourhood album which was only released in December. Suffice to say this was Troye's year and it helped cement him as a musician rather than just a Youtuber.
5. The Weeknd – The Hills
The music video for the year's darkest No. 1 single finds 25-year-old Abel Tesfaye a.k.a. the Weeknd pulling himself out of a smoking car wreck. It's a fitting visual, as listening to his twisted brand of R&B can feel like rubbernecking when he brags about dysfunctional relationships and being on so many drugs that getting high feels like decaf.
Yet the song's throbbing bass and Tesfaye's horror-movie vocal delivery make the song, like some accidents, hard to turn away from.
4. Tame Impala – Let It Happen
One of the few Aussie acts to make our Top 10, Tame Impala's third album, Currents, opens with the psych-rock band's boldest cut yet. The opening riffs of "Let It Happen" hit a disco stride before slowing down to the more hypnotic, psychedelic fare the band has come to be associated with.
The single also sees Tame Impala at their catchiest, making for a deeply engaging earworm of a track.
3. Adam Lambert – Ghost Town
American Idol-alum and guest frontman for Queen delivered one of the year's most shocking drops and best house single with "Ghost Town." The song starts slowly with just Lambert's voice and an acoustic guitar, then dips into a goth EDM beat.
If you have been to any gay event with music in 2015 I'm sure you've heard this song. Lambert is one of our faves.
2. Adele – Hello
Adele's comeback to music following a break from the spotlight for a couple of years was one of 2015's most triumphant returns. The singer was met with open and loving arms by the public as she first teased single "Hello" during a TV ad and later dropped the soaring, emotional ballad just weeks later.
Her third LP, 25, continues to break records, having sold over 3 million copies in its first week alone.
1. Justin Bieber – Sorry
This was the year Justin Bieber became 'cool' again. The young Canadian shrugged off his bad boy image and let his music make the headlines, and that's just what his songs did. His first song of the year 'Where Are U Now', a combination of Skrillex & Diplo Feat. Justin Bieber was a breakthrough and then the high rotation 'What do you mean' pushed him back into the mainstream.
Of all the songs from his 'Purpose' albumn, it was 'Sorry' that gained the most plaudits from our experts and gained him the number 1 spot in the Eikonic songs of 2015.
Last Updated on Dec 30, 2015